TIPS
Switch It Up! Here Are 4 Ways To Wear Threeway Solid Lip Oils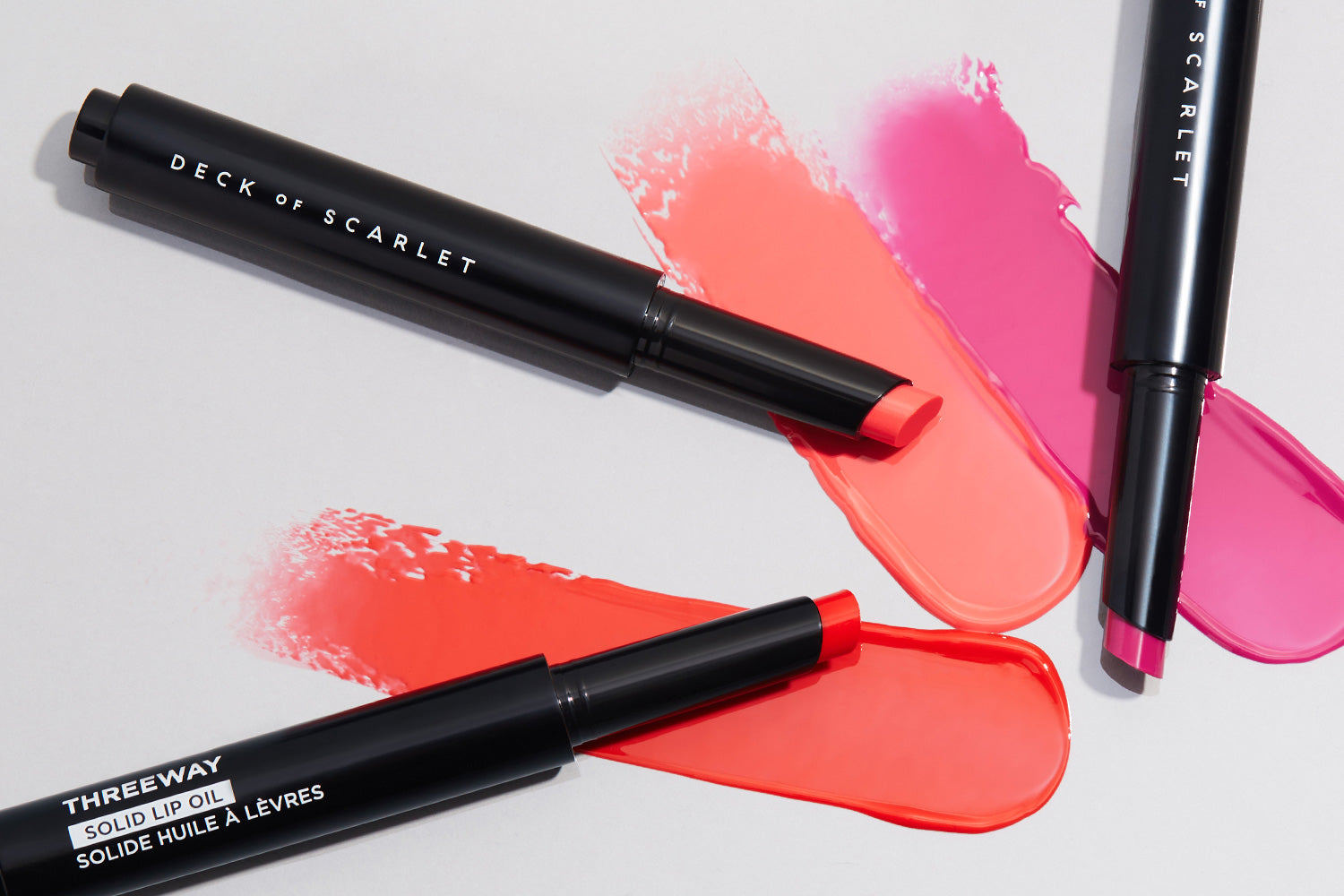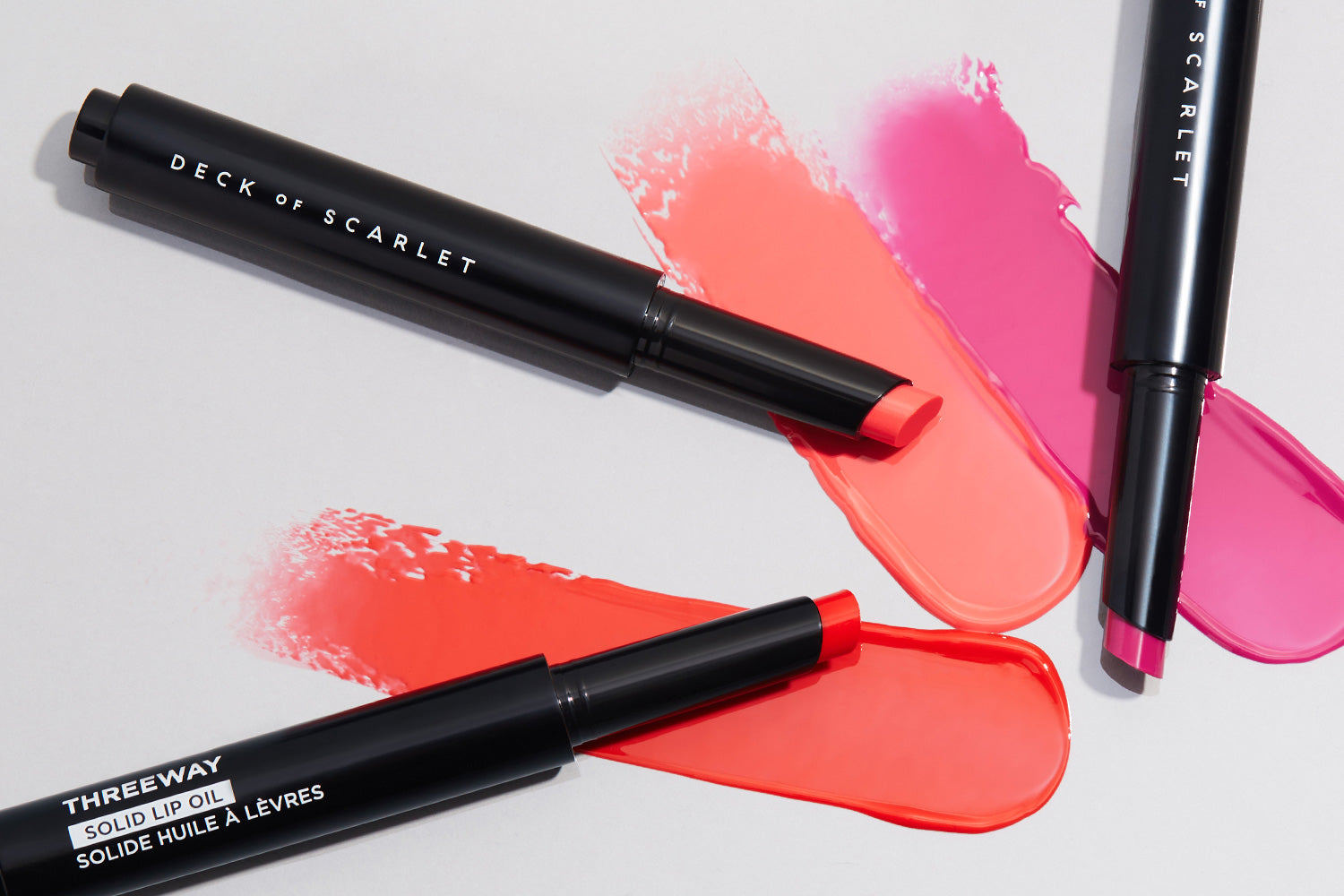 February 5, 2021
by

Alina Bikmullina
by Amanda Etkind
Lipstick is easily one of the most versatile products in our makeup bags. One single swipe can instantly elevate your look without the need to apply a ton of other products—because, if we're being honest, rocking a full face of makeup just isn't always in the cards. That being said, you may want something a bit more toned down than your bold red lip or you might be in the mood for more than your usual nude-y pink. This is where our Threeway Solid Lip OIls come into play. This 3-in-1 multitasker features the nourishing hydration of an oil, the saturated color of a lipstick, and the shine of a gloss. Basically, depending on how you apply it, you can create a variety of looks with one single product. Whether you like to keep things sheer, fully saturated, or somewhere in between, below are four different ways to wear our Threeway Solid Lip Oils. 
One Swipe For Moisture-Packed Color
Some days we just want to look put together. You know, those times when you throw on your favorite pair of jeans, a simple T-shirt, and maybe a blazer or your statement shoes to add a pop of personality. Well, the one-swipe style of our Threeway Solid Lip Oil is basically the makeup equivalent to this. It gives you that color you crave and major moisture thanks to the hyaluronic acid  and nourishing oils in the formula. To create this lip look, simply swipe the bullet across your lips using light pressure and sheer out the edges with your fingertips and you're good to go. 
Wear Layered For Saturated Pigment
This application tip is for those days when you just want to let your lips do the talking. Whether we're simply feeling ourselves or need an instant mood-boost, a full-on red, fuschia, or even purple lip can do no wrong. To create this look with our Threeway Solid Lip Oils, pick up the color of your choosing, and lay it on thick until you reach your desired intensity. Thanks to the buildable formula, you can layer as many times as you want without a heavy, weighty feeling. The mirror-like pearl pigments will melt together with the hydrating oils in the formula to give you that next level shine to stand out. 
Try Blotted For A Slight Stain
You know how after eating a popsicle your lips become a pretty, just-bitten red or pink hue?  That's the look we're going for here. It's perfect for days when you want a bit of color to your pout, but don't want a full-on bold lip look or aren't seeking shine. All you have to do is dab the bullet onto your lips, take a tissue or napkin and gently blot to take away excess shine or color. The best part is that our formula doesn't dry out your lips, so while you won't feel any slickness like you do when the color is fully applied, your lips will remain hydrated and plush all day.
Blend To Create Your Own Custom Color
Customization is the name of the game these days—especially when it comes to beauty. You may want to wear your signature red, but aren't in the mood for such a strong shade, or you could also desire a neutral with a bit more pink or peach. Rather than searching high and low  to find that perfect shade, you can save yourself the time, money, and stress just by mixing a few colors together to make your own. To create your personalized custom shades, press a lip brush into the colors you'd like to mix, and blend them together on the back of your hand.  Once you've found the perfect tone for you, simply use the lip brush to apply the color to your lips. The best part about this is that you can adjust the amounts of each hue to create your perfect shades.
Now that you see how easy it is to take one single lipstick formula and wear it a multitude of ways, we can't wait to see how you experiment with our Threeway Solid Lip Oils.
Threeway Solid Lip Oil
in Lip Oil
Threeway Solid Lip Oil x James Goldcrown
in Lip Oil
_arrayEquals(v.options, ['BUFF ROSE']))" value="BUFF ROSE" name="814415285624668258464-0" :checked="selectedVariant.options.includes('BUFF ROSE')" id="814415285624668258464colorbuff-rose" type="radio">
_arrayEquals(v.options, ['MAUVE MINX']))" value="MAUVE MINX" name="814415285624668258464-0" :checked="selectedVariant.options.includes('MAUVE MINX')" id="814415285624668258464colormauve-minx" type="radio">
_arrayEquals(v.options, ['ROSE GODDESS']))" value="ROSE GODDESS" name="814415285624668258464-0" :checked="selectedVariant.options.includes('ROSE GODDESS')" id="814415285624668258464colorrose-goddess" type="radio">
_arrayEquals(v.options, ['COCOA SPICE']))" value="COCOA SPICE" name="814415285624668258464-0" :checked="selectedVariant.options.includes('COCOA SPICE')" id="814415285624668258464colorcocoa-spice" type="radio">
_arrayEquals(v.options, ['NUDE AMBITION']))" value="NUDE AMBITION" name="814415285624668258464-0" :checked="selectedVariant.options.includes('NUDE AMBITION')" id="814415285624668258464colornude-ambition" type="radio">
_arrayEquals(v.options, ['MERLOT MOVES']))" value="MERLOT MOVES" name="814415285624668258464-0" :checked="selectedVariant.options.includes('MERLOT MOVES')" id="814415285624668258464colormerlot-moves" type="radio">
_arrayEquals(v.options, ['BORDEAUX BABY']))" value="BORDEAUX BABY" name="814415285624668258464-0" :checked="selectedVariant.options.includes('BORDEAUX BABY')" id="814415285624668258464colorbordeaux-baby" type="radio">
_arrayEquals(v.options, ['SCARLET PASSION']))" value="SCARLET PASSION" name="814415285624668258464-0" :checked="selectedVariant.options.includes('SCARLET PASSION')" id="814415285624668258464colorscarlet-passion" type="radio">
_arrayEquals(v.options, ['PURPLE REIGN']))" value="PURPLE REIGN" name="814415285624668258464-0" :checked="selectedVariant.options.includes('PURPLE REIGN')" id="814415285624668258464colorpurple-reign" type="radio">
_arrayEquals(v.options, ['PEACH SANDS']))" value="PEACH SANDS" name="814415285624668258464-0" :checked="selectedVariant.options.includes('PEACH SANDS')" id="814415285624668258464colorpeach-sands" type="radio">
_arrayEquals(v.options, ['FUCHSIA SHOCK']))" value="FUCHSIA SHOCK" name="814415285624668258464-0" :checked="selectedVariant.options.includes('FUCHSIA SHOCK')" id="814415285624668258464colorfuchsia-shock" type="radio">
_arrayEquals(v.options, ['ORANGE RAVE']))" value="ORANGE RAVE" name="814415285624668258464-0" :checked="selectedVariant.options.includes('ORANGE RAVE')" id="814415285624668258464colororange-rave" type="radio">
_arrayEquals(v.options, ['GUAVA SUNRISE']))" value="GUAVA SUNRISE" name="814415285624668258464-0" :checked="selectedVariant.options.includes('GUAVA SUNRISE')" id="814415285624668258464colorguava-sunrise" type="radio">
_arrayEquals(v.options, ['GOLDCROWN']))" value="GOLDCROWN" name="814415285624668258464-0" :checked="selectedVariant.options.includes('GOLDCROWN')" id="814415285624668258464colorgoldcrown" type="radio">
_arrayEquals(v.options, ['ORCHID AFTERGLOW']))" value="ORCHID AFTERGLOW" name="814415285624668258464-0" :checked="selectedVariant.options.includes('ORCHID AFTERGLOW')" id="814415285624668258464colororchid-afterglow" type="radio">
_arrayEquals(v.options, ['ROUGE SUPREME']))" value="ROUGE SUPREME" name="814415285624668258464-0" :checked="selectedVariant.options.includes('ROUGE SUPREME')" id="814415285624668258464colorrouge-supreme" type="radio">
_arrayEquals(v.options, ['CORAL ROSE']))" value="CORAL ROSE" name="814415285624668258464-0" :checked="selectedVariant.options.includes('CORAL ROSE')" id="814415285624668258464colorcoral-rose" type="radio">
_arrayEquals(v.options, ['ESPRESSO RICHE']))" value="ESPRESSO RICHE" name="814415285624668258464-0" :checked="selectedVariant.options.includes('ESPRESSO RICHE')" id="814415285624668258464colorespresso-riche" type="radio">
_arrayEquals(v.options, ['LILAC LOVER']))" value="LILAC LOVER" name="814415285624668258464-0" :checked="selectedVariant.options.includes('LILAC LOVER')" id="814415285624668258464colorlilac-lover" type="radio">
_arrayEquals(v.options, ['MAHOGANY MOOD']))" value="MAHOGANY MOOD" name="814415285624668258464-0" :checked="selectedVariant.options.includes('MAHOGANY MOOD')" id="814415285624668258464colormahogany-mood" type="radio">
_arrayEquals(v.options, ['CREAMSICLE FIZZ']))" value="CREAMSICLE FIZZ" name="814415285624668258464-0" :checked="selectedVariant.options.includes('CREAMSICLE FIZZ')" id="814415285624668258464colorcreamsicle-fizz" type="radio">
_arrayEquals(v.options, ['PINK PETAL']))" value="PINK PETAL" name="814415285624668258464-0" :checked="selectedVariant.options.includes('PINK PETAL')" id="814415285624668258464colorpink-petal" type="radio">
_arrayEquals(v.options, ['ROSEWOOD BLUSH']))" value="ROSEWOOD BLUSH" name="814415285624668258464-0" :checked="selectedVariant.options.includes('ROSEWOOD BLUSH')" id="814415285624668258464colorrosewood-blush" type="radio">
_arrayEquals(v.options, ['NATURAL NECTAR']))" value="NATURAL NECTAR" name="814415285624668258464-0" :checked="selectedVariant.options.includes('NATURAL NECTAR')" id="814415285624668258464colornatural-nectar" type="radio">
_arrayEquals(v.options, ['PINK PROVOCATEUR']))" value="PINK PROVOCATEUR" name="814415285624668258464-0" :checked="selectedVariant.options.includes('PINK PROVOCATEUR')" id="814415285624668258464colorpink-provocateur" type="radio">
_arrayEquals(v.options, ['GOLDCROWN']))" value="GOLDCROWN" name="991977467203131424928-0" :checked="selectedVariant.options.includes('GOLDCROWN')" id="991977467203131424928colorgoldcrown" type="radio">