TIPS
Create A Maximalist Makeup Look Using The NEW Threeway Solid Lip Oil X James Goldcrown Collab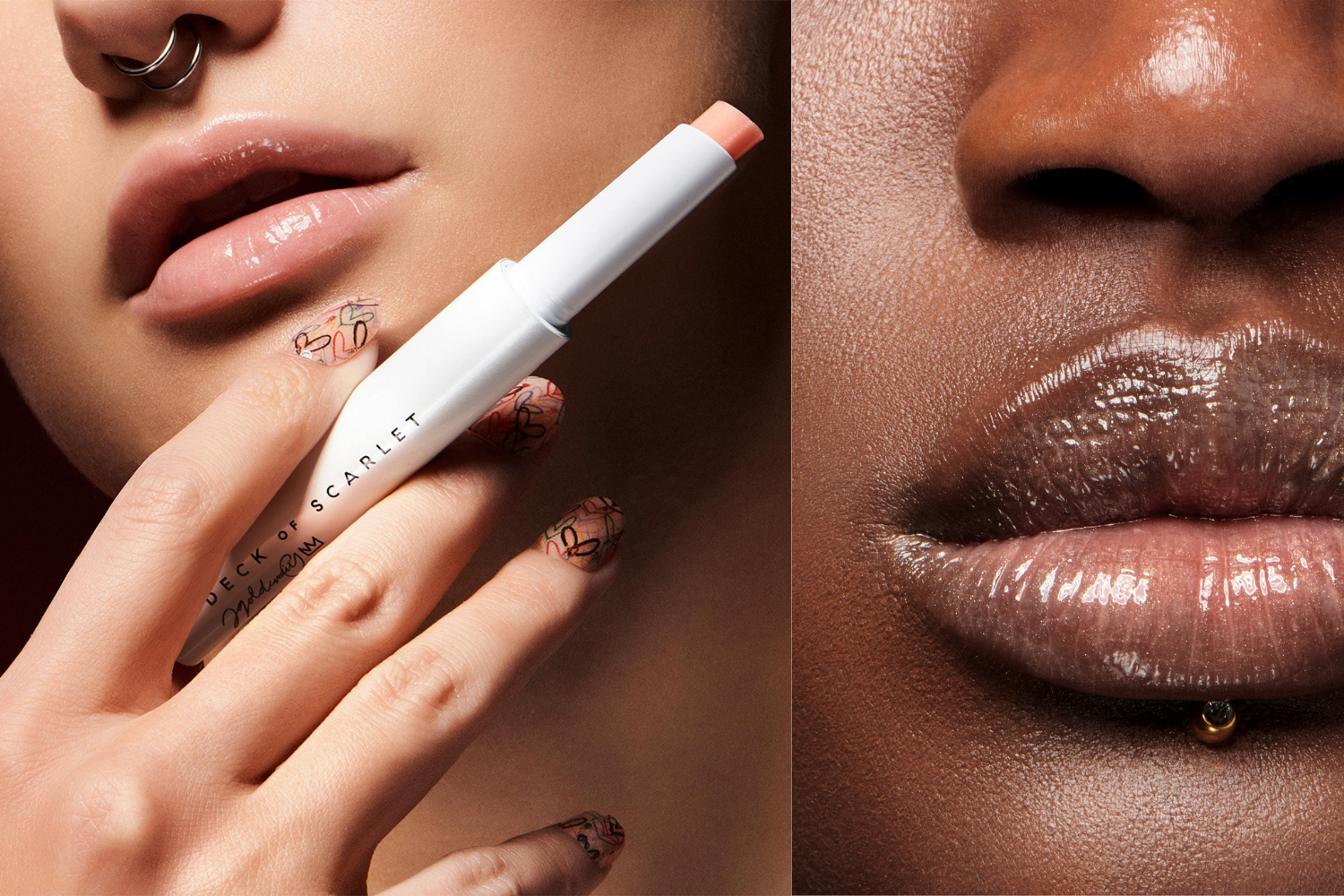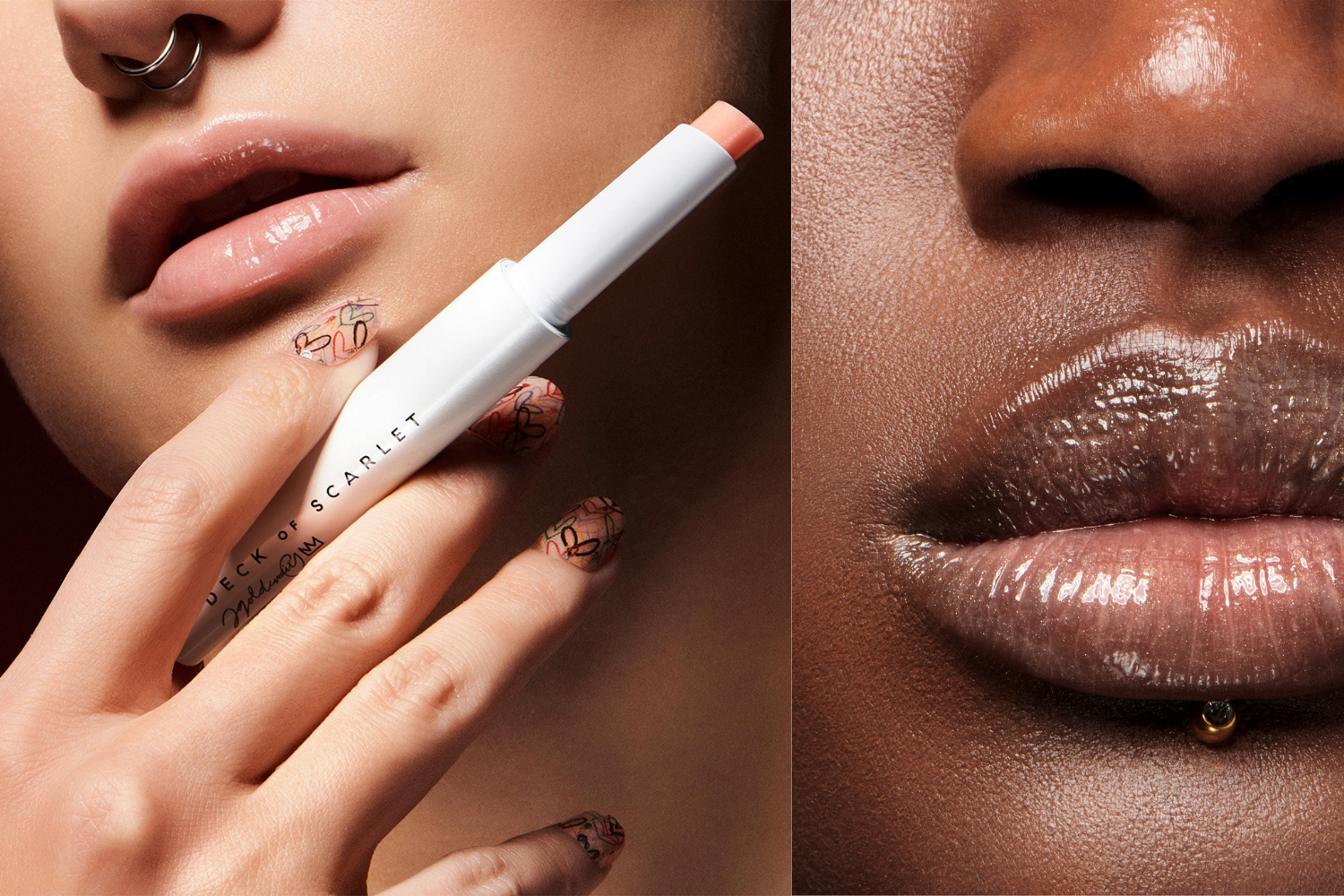 January 21, 2022
by

Alina Bikmullina
by Amanda Etkind
If you didn't already know, we've collaborated with world-renowned graffiti artist James Goldcrown to create a "your lips but better" shade of our fan-fave Threeway Solid Lip Oil ($28) that features his signature graffiti hearts emblazoned on both the Threeway Solid Lip Oil packaging and its outer packaging box. This brand spanking new shade is a result of our Scarlet Squad's desire for a more sheer tone — so of course we had to come in clutch with the most perfect one. The shade is a winning combination of a sheer peach tone with light-catching gold flecks that give your lips a juicy and plump appearance sans a strong color payoff. In honor of this pretty awesome partnership, we decided to sit down with our Scarlet Squad and beauty influencers @Kristinaxmakeup and @Seananthonyv over Instagram Live to chat about this major collab and get their personal tips for how they'd wear this brand-new and limited-edition Threeway Solid Lip Oil ($28) themselves. Read on to discover their top tips for how they'd wear the shade to create their very own maximalist makeup look.  
Kristina X Makeup Tip: Create A Complete Nude Lip Look 
If you follow Kristina (which if you don't you totally should start!), you know she kills when it comes to creating an elevated neutral look from brows to lips. Seeing as her maximalist vibe is more along the neutral spectrum, it's only fitting that she uses the stunning sheer peach shade to create her beloved nude lip. Kristina recommends pairing the sheer-tone peach with a nude or neutral lip liner and/ or a pink lipstick underneath. She's even layered this particular one over our Threeway Solid Lip Oil in Buff Rose and Nude Ambition  to make the gold flecks in the formula pop. 
Sean Anthony Tip: Pair With Blue Eye Shadow and A Bold, Graphic Liner
Love a bold eye? Then Sean Anthony's maximalist makeup tip for how he wears the Threeway Solid Lip Oil is just the one for you. Sean is known for his incredible eye-defining looks and use of color — if you haven't laid eyes on his fierce beats you better run over to his Instagram to take a peek. Since he's all about the bold eyes, he finds the sheer peachy tone of the solid lip oil the perfect companion to his go-to look: a bold blue eye and graphic winged liner. To create this look yourself, we suggest grabbing our stunning Metal Leaf Shadow Pot in Night Fever ($25) for a one-swipe metallic foiled effect in a stunning cobalt blue color. Our Dual Drama Liquid Eyeliner ($28) is the perfect next step to finish off Sean's bold blue eye. The inky black liner never tugs, flakes, or fades making it a makeup-bag must for drawing on a statement flick with ease. 
If you haven't already, be sure to watch our Instagram Live to see more of what our Scarlet Squad had to say about this killer collab, live swatches of this new product — and  you can even get a sneak peek at some new Lip Oil shades that are launching soon. Don't forget to share your maximalist makeup look starring the special-edition Deck of Scarlet x James Goldcrown Threeway Solid Lip Oil with us at @DeckOfScarlet.