PRODUCT
Empower Yourself With Our NEW Deck of Scarlet Fragrances
September 14, 2021
by

Alina Bikmullina
by Amanda Etkind
National Fragrance Day Is The Best Day Ever
It might just be our favorite day of the year: National Fragrance Day is here, and to celebrate it we've got the best news ever. Eau, yes!
We heard you wanting more, so we're giving you so much more. Starting right now, you can score full-size bottles of the ultimate best-seller Power Suit, the fragrance designed to help you smell good and bring out your inner badass boss. Plus, on March 21st, National Fragrance Day you can score 15% off the Scarlet and Power Suit fragrances, including the full bottles, and the Supreme Scarlet Duo ($42): Within the makeup bag, you'll find our Threeway Solid Lip Oil in Scarlet Passion, as well as our signature Scarlet fragrance in a convenient 8ml travel spray.
Now, read on, empower yourself, and don't forget to thank us later.  
Fragrance has been a thing since pretty much forever. Since early civilization, people have been spritzing themselves with scented oils, perfumes, and fragrances. While there are many reasons why people wear perfume, including to smell good, obvi, there's so much more fragrance than that. Fragrance is best known to boost mood, seen as a medium to show off your individuality (hello signature scents!), and just make you feel a sense of overall happiness. But did you know perfume can also help empower you, too? Enter our NEW Deck of Scarlet Fragrances Power Suit and Scarlet. Each incredible scent is designed to not only make you smell oh-so-good but also to help inspire you to bring out your inner badass boss. Intrigued? We thought so. Keep reading for the full rundown on our two new empowering scents.  
THE NOTES
If you didn't already know, fragrance notes are essentially the different layers that make up a perfume's overall scent. These different smells are split into three distinct elements: top notes, middle notes, and base notes. When it comes to our two new fragrances, we wanted to ensure they smelled dreamy from the first spritz to the drydown phase. Our Power Suit Eau De Parfum Travel Spray ($32) is a part of the woody fragrance family with key notes of fig, orange flower, jasmine, sandalwood, and skin musk. Our Scarlet Eau De Parfum Travel Spray ($32) is a part of the floral family, with an emphasis on rose. This delicious fruity floral features notes of blackcurrant berries, rose, suede accord, peony, and sandalwood. 
THE SCENTS
Both of these fragrances smell incredible in different ways. If you prefer a more citrusy, fresh aroma, our Power Suit scent is the one for you. The juicy fruits like pear and fig mix with cardamom to create a soft sweetness. Then lush florals like jasmine, orange flower, and orris come to play while sandalwood, coconut, and musk keep everything grounded. If you're more into a classic floral with a hint of fruitiness, definitely give our  Scarlet scent a whirl. It's packed with Italian lemon, blackcurrant, and grapefruit to start, then lush rose and peony enter the chat for a flirty flair. Finally, at the base you get a warm mix of suede and musk plus a dose of heady sandalwood for a heavenly finale. 
THE VIBES
The vibe or mood of a scent is so important. One scent may be good to wear if you need to calm down after a long day, while another exudes sex appeal. Luckily, each one of ours is designed to have you command the room. Power Suit exudes boss b*tch energy with its intoxicating blend of woody and fruity notes. This would be the perfect scent to wear during a big presentation at work, or before an important performance. As far as our Scarlet scent, it's all about giving you confidence in the love department—whether that's within you, or with someone else. Scarlet is the color of passion, love, and energy, so we created a perfume to give off that exact aura. This bold, seductive scent heats things up and keeps you at the center of it all. 
HOW TO WEAR THEM 
It's not as simple as just spray and walk away. First, twist the atomizer clockwise to reveal the spray nozzle, then apply to pulse points like your wrists, neck, chest, or anywhere else you want the scent to linger. Twist the atomizer counterclockwise to close. If you want the scent to last longer, layer it on top of Vaseline or your favorite body lotion. You can also spritz in your hair in case you want someone to get a whiff when they get close. 
We know what you're thinking—it's time to add both of these star-worthy scents to your cart. With just one spritz, these lush perfumes will empower you to take charge in work, your love life, and in virtually any situation where you need to channel your power.
Celebrate the National Fragrance Day and every day with Deck of Scarlet fragrances. Try them out and let us know what you think by tagging us on your Instagram review @deckofscarlet.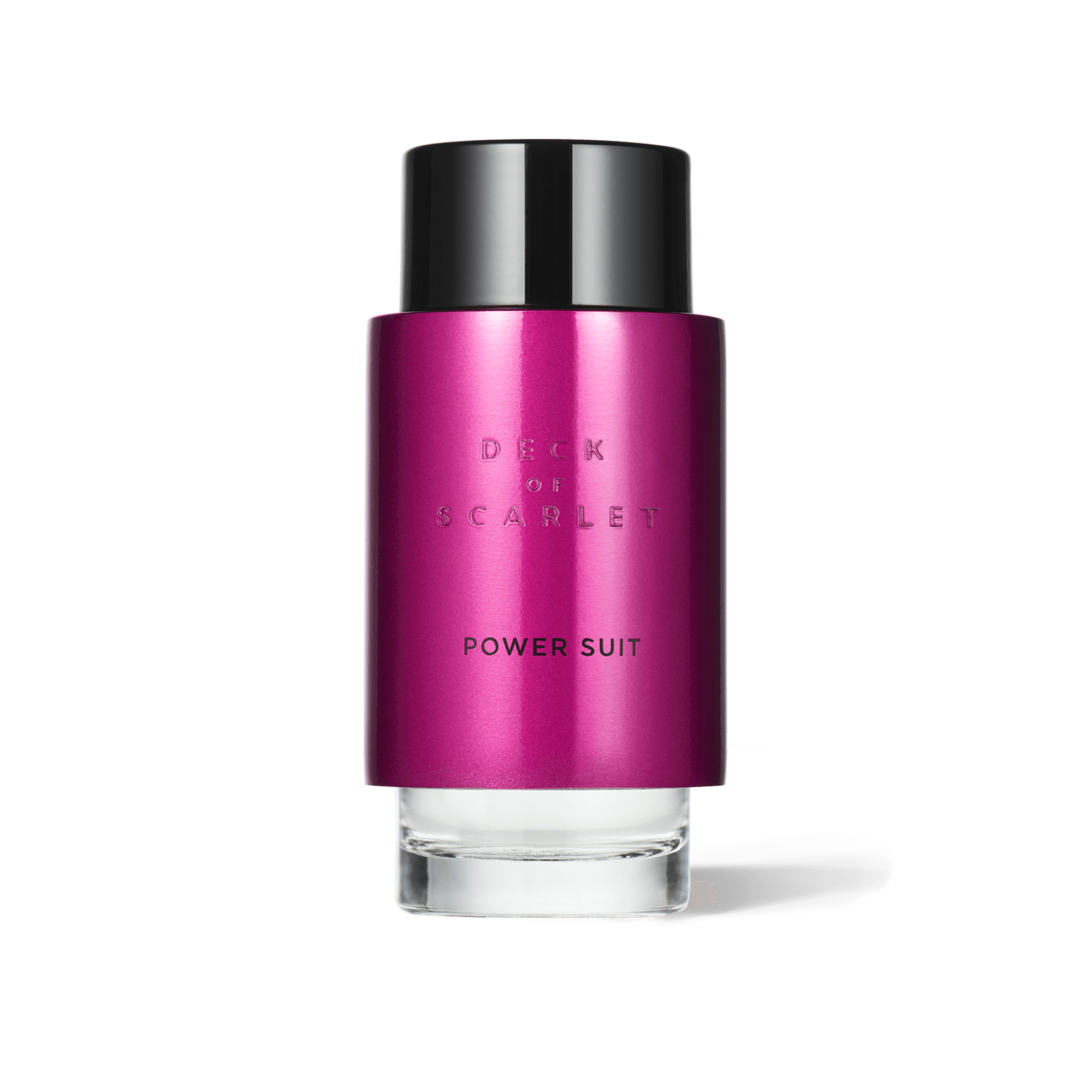 Power Suit EDP
in Perfume