TIPS
How To Create An On-Trend Monochromatic Look
August 2, 2021
by

Alina Bikmullina
by Amanda Etkind
When creating a killer makeup look, you've likely been advised to choose one area on the face as a focal point, like a bold red lip or stunning smokey eye. But we don't always want to have to choose one or the other. And now you don't have to. Since makeup rules we're meant to be broken — and those days of following outdated advice are out the window, we're ready to embrace the latest makeup hit to grace the internet and our favorite celebs faces: the monochromatic makeup trend.
This tonal trend is back and we couldn't be more excited. In case you're unfamiliar, monochromatic makeup is essentially matching the same shade or color family across your eyes, lips, and cheeks. However, the tonal trend does allow for wiggle room. Since anything goes, you can select two or more areas of the face to don the coordinated colors spanning subtle to bold (because do you, boo). That being said, this trend can go from gorgeous to garish real quick, and let's face it, no one wants to look like Ronald McDonald. Below, we share our expert tips and tricks for how to create the look on your own, along with some of our products and exclusive kits (spoiler alert: you need these) that make creating the look a total breeze. 
Pick Your Shade Wave
The first step in designing a monochrome look is selecting your shades. From peachy pinks, to bold orange, to rosy mauves, and warm bronze, there's a plethora of hues to choose from — and you can pretty much choose whatever you want. If you need some guidance, we suggest opting for a color that compliments your skin tone, or taking the tone of your favorite shade of lipstick to start. If you're still struggling, rose tones are universally flattering and work for everyone—from fair to deep, and all of the gorgeous skin tones in between. To make things easy, we created a kit to help you flawlessly conquer the same-shade look. Inside our blush-toned Rose Rebel Bundle ($79) you'll find a [MIST]AKE PROOF Blush hue of your choosing (we recommend picking Savage or Shameless here) to create a rosy flush of color, THREEWAY Solid Lip Oil in Rose Goddess to slick your lips is a pink-rose glossy hue, and Metal Leaf Shadow Pot in Party Trick which dazzles lids in a seriously stunning rose gold that makes any eye color pop. 
Go Bold
Prefer a striking look to something more subdued? This trend is perfect for that. Bright, vibrant colors are a fun way to amp up your look with nearly little effort.  If you do choose to go bright, try prioritizing two features to sport the saturated shade like your lips and eyes, or cheeks and lips, and keeping the third feature (if you choose to do all three) more neutral or a sheer version of the same bright tone. This way, you'll keep the look from entering clownish territory while still rocking an audacious beat.
Stay Neutral
On the flip side, if you're a neutral lover, you can totally make monochromatic makeup work for you. Try using warm neutral browns and bronzes as a beginning point, then amp up one of your facial features with a deeper or brighter variation of the hue. Our Glow Goddess Bundle ($79) is your perfect partner for this way into the trend. It stars a trio of radiance-boosting staples that help create that all-over goddess-level glow, seamlessly. The bundle consists of your most flattering hue of the [MIST]AKE PROOF Bronzer, Metal Leaf Shadow Pot in Mega Watt for some 24-karat realness on your lids, and Dual Drama Liquid Eyeliner in Solar Flare to add a dash of duochromatic gold to green color while defining your eyes. We suggest pairing it with our THREEWAY Solid Lip Oil in Nude Ambition to level out the look or adding a pop of orange with our THREEWAY Solid Lip Oil in Orange Rave.
Play With Texture
Another way to spice up your monochromatic makeup is by playing with textures. While you can totally stick to one texture, utilizing a mix of matte, metallic, satin, shimmer, and glitter finishes not only adds dimension, but also interest to your look. For instance, try a glossy lip with a matte blush and shimmering shadow in the same shade. You can also amplify or sheer out the same product across your lids, lips, and cheeks to keep the look soft, while maintaining a monochrome masterpiece. 
No go on and play with color! However you choose to don the matchy-matchy makeup trend, we have the products and tools to help you achieve it. And P.S., don't forget to share your head-turning monochrome look with us on Instagram @deckofscarlet.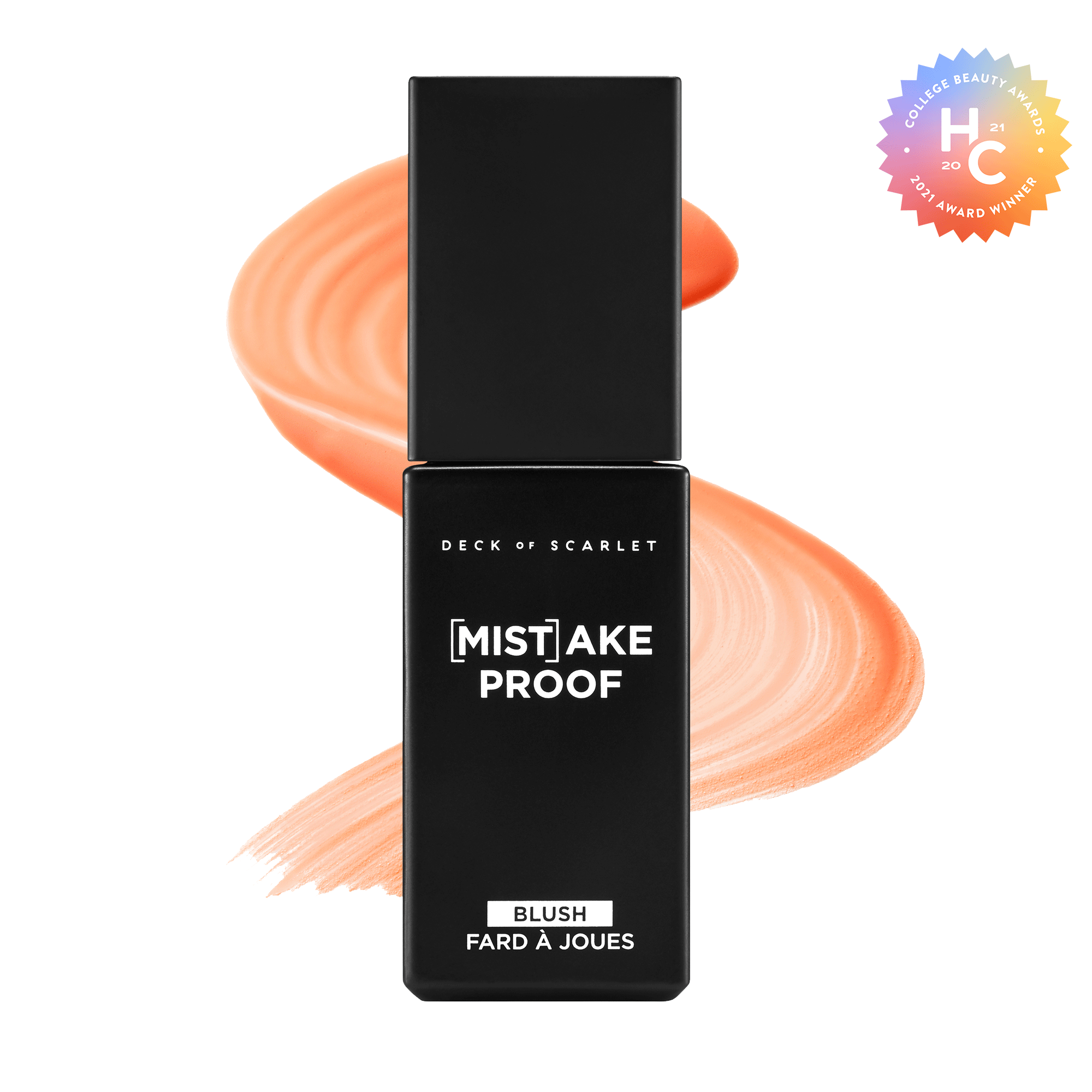 Mistake Proof Blush
in Blush
Threeway Solid Lip Oil
in Lip Oil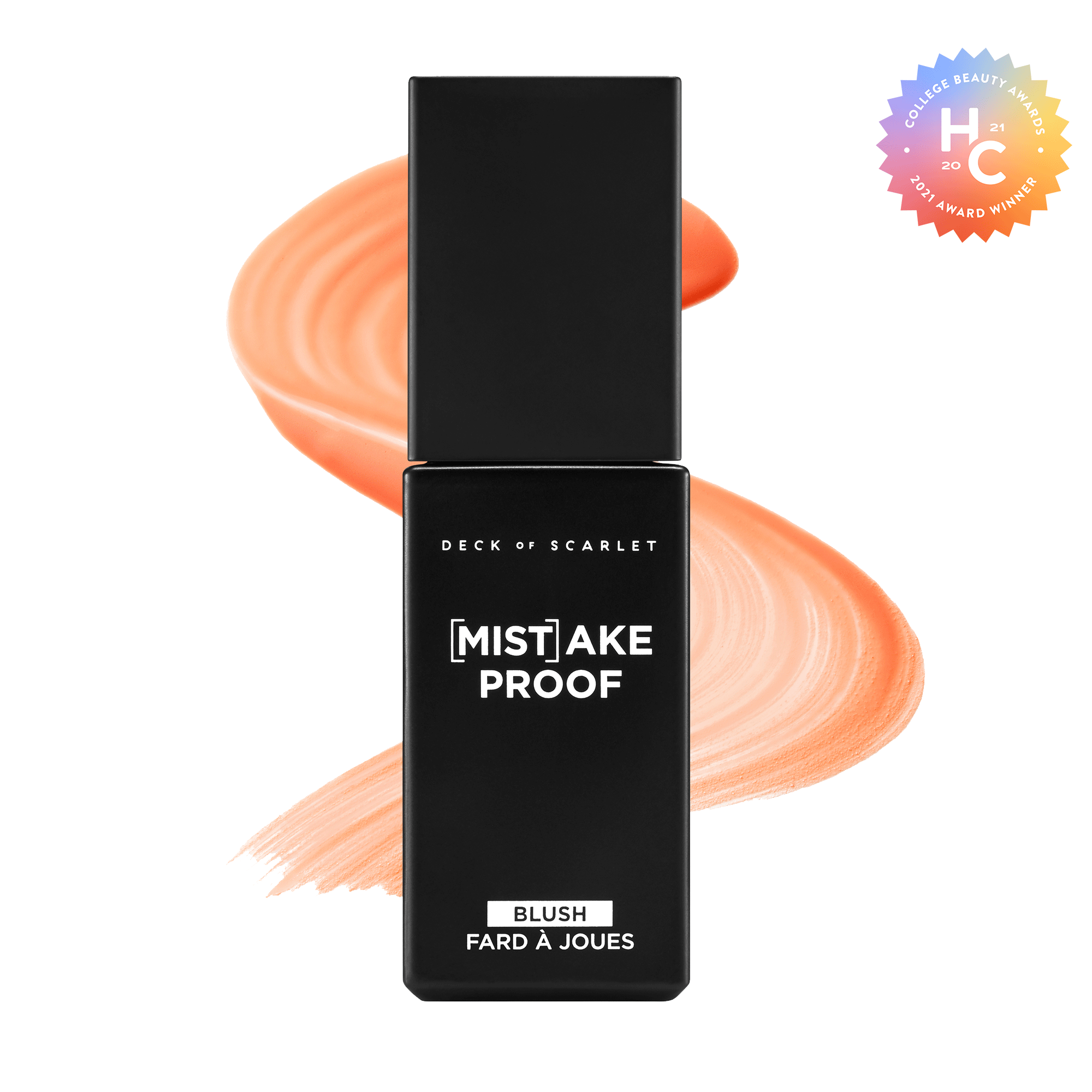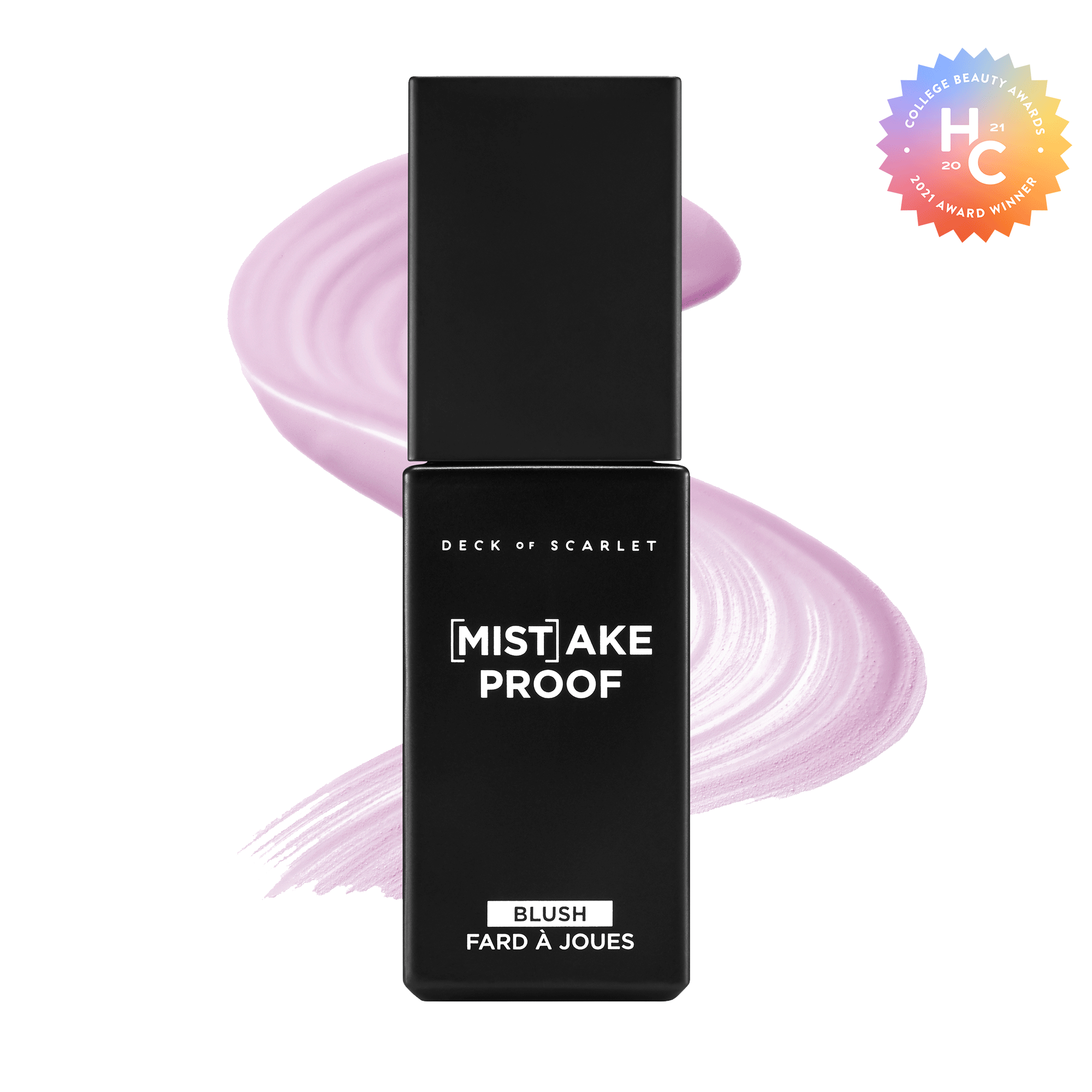 _arrayEquals(v.options, ['SAVAGE']))" value="SAVAGE" name="569795154453895798915-0" :checked="selectedVariant.options.includes('SAVAGE')" id="569795154453895798915colorsavage" type="radio">
_arrayEquals(v.options, ['SHAMELESS']))" value="SHAMELESS" name="569795154453895798915-0" :checked="selectedVariant.options.includes('SHAMELESS')" id="569795154453895798915colorshameless" type="radio">
_arrayEquals(v.options, ['RELENTLESS']))" value="RELENTLESS" name="569795154453895798915-0" :checked="selectedVariant.options.includes('RELENTLESS')" id="569795154453895798915colorrelentless" type="radio">
_arrayEquals(v.options, ['BRAZEN']))" value="BRAZEN" name="569795154453895798915-0" :checked="selectedVariant.options.includes('BRAZEN')" id="569795154453895798915colorbrazen" type="radio">
_arrayEquals(v.options, ['UNRULY']))" value="UNRULY" name="569795154453895798915-0" :checked="selectedVariant.options.includes('UNRULY')" id="569795154453895798915colorunruly" type="radio">
_arrayEquals(v.options, ['DEFIANT']))" value="DEFIANT" name="569795154453895798915-0" :checked="selectedVariant.options.includes('DEFIANT')" id="569795154453895798915colordefiant" type="radio">
_arrayEquals(v.options, ['BUFF ROSE']))" value="BUFF ROSE" name="649056265624668258464-0" :checked="selectedVariant.options.includes('BUFF ROSE')" id="649056265624668258464colorbuff-rose" type="radio">
_arrayEquals(v.options, ['MAUVE MINX']))" value="MAUVE MINX" name="649056265624668258464-0" :checked="selectedVariant.options.includes('MAUVE MINX')" id="649056265624668258464colormauve-minx" type="radio">
_arrayEquals(v.options, ['ROSE GODDESS']))" value="ROSE GODDESS" name="649056265624668258464-0" :checked="selectedVariant.options.includes('ROSE GODDESS')" id="649056265624668258464colorrose-goddess" type="radio">
_arrayEquals(v.options, ['COCOA SPICE']))" value="COCOA SPICE" name="649056265624668258464-0" :checked="selectedVariant.options.includes('COCOA SPICE')" id="649056265624668258464colorcocoa-spice" type="radio">
_arrayEquals(v.options, ['NUDE AMBITION']))" value="NUDE AMBITION" name="649056265624668258464-0" :checked="selectedVariant.options.includes('NUDE AMBITION')" id="649056265624668258464colornude-ambition" type="radio">
_arrayEquals(v.options, ['MERLOT MOVES']))" value="MERLOT MOVES" name="649056265624668258464-0" :checked="selectedVariant.options.includes('MERLOT MOVES')" id="649056265624668258464colormerlot-moves" type="radio">
_arrayEquals(v.options, ['BORDEAUX BABY']))" value="BORDEAUX BABY" name="649056265624668258464-0" :checked="selectedVariant.options.includes('BORDEAUX BABY')" id="649056265624668258464colorbordeaux-baby" type="radio">
_arrayEquals(v.options, ['SCARLET PASSION']))" value="SCARLET PASSION" name="649056265624668258464-0" :checked="selectedVariant.options.includes('SCARLET PASSION')" id="649056265624668258464colorscarlet-passion" type="radio">
_arrayEquals(v.options, ['PURPLE REIGN']))" value="PURPLE REIGN" name="649056265624668258464-0" :checked="selectedVariant.options.includes('PURPLE REIGN')" id="649056265624668258464colorpurple-reign" type="radio">
_arrayEquals(v.options, ['PEACH SANDS']))" value="PEACH SANDS" name="649056265624668258464-0" :checked="selectedVariant.options.includes('PEACH SANDS')" id="649056265624668258464colorpeach-sands" type="radio">
_arrayEquals(v.options, ['FUCHSIA SHOCK']))" value="FUCHSIA SHOCK" name="649056265624668258464-0" :checked="selectedVariant.options.includes('FUCHSIA SHOCK')" id="649056265624668258464colorfuchsia-shock" type="radio">
_arrayEquals(v.options, ['ORANGE RAVE']))" value="ORANGE RAVE" name="649056265624668258464-0" :checked="selectedVariant.options.includes('ORANGE RAVE')" id="649056265624668258464colororange-rave" type="radio">
_arrayEquals(v.options, ['GUAVA SUNRISE']))" value="GUAVA SUNRISE" name="649056265624668258464-0" :checked="selectedVariant.options.includes('GUAVA SUNRISE')" id="649056265624668258464colorguava-sunrise" type="radio">
_arrayEquals(v.options, ['GOLDCROWN']))" value="GOLDCROWN" name="649056265624668258464-0" :checked="selectedVariant.options.includes('GOLDCROWN')" id="649056265624668258464colorgoldcrown" type="radio">
_arrayEquals(v.options, ['ORCHID AFTERGLOW']))" value="ORCHID AFTERGLOW" name="649056265624668258464-0" :checked="selectedVariant.options.includes('ORCHID AFTERGLOW')" id="649056265624668258464colororchid-afterglow" type="radio">
_arrayEquals(v.options, ['ROUGE SUPREME']))" value="ROUGE SUPREME" name="649056265624668258464-0" :checked="selectedVariant.options.includes('ROUGE SUPREME')" id="649056265624668258464colorrouge-supreme" type="radio">
_arrayEquals(v.options, ['CORAL ROSE']))" value="CORAL ROSE" name="649056265624668258464-0" :checked="selectedVariant.options.includes('CORAL ROSE')" id="649056265624668258464colorcoral-rose" type="radio">
_arrayEquals(v.options, ['ESPRESSO RICHE']))" value="ESPRESSO RICHE" name="649056265624668258464-0" :checked="selectedVariant.options.includes('ESPRESSO RICHE')" id="649056265624668258464colorespresso-riche" type="radio">
_arrayEquals(v.options, ['LILAC LOVER']))" value="LILAC LOVER" name="649056265624668258464-0" :checked="selectedVariant.options.includes('LILAC LOVER')" id="649056265624668258464colorlilac-lover" type="radio">
_arrayEquals(v.options, ['MAHOGANY MOOD']))" value="MAHOGANY MOOD" name="649056265624668258464-0" :checked="selectedVariant.options.includes('MAHOGANY MOOD')" id="649056265624668258464colormahogany-mood" type="radio">
_arrayEquals(v.options, ['CREAMSICLE FIZZ']))" value="CREAMSICLE FIZZ" name="649056265624668258464-0" :checked="selectedVariant.options.includes('CREAMSICLE FIZZ')" id="649056265624668258464colorcreamsicle-fizz" type="radio">
_arrayEquals(v.options, ['PINK PETAL']))" value="PINK PETAL" name="649056265624668258464-0" :checked="selectedVariant.options.includes('PINK PETAL')" id="649056265624668258464colorpink-petal" type="radio">
_arrayEquals(v.options, ['ROSEWOOD BLUSH']))" value="ROSEWOOD BLUSH" name="649056265624668258464-0" :checked="selectedVariant.options.includes('ROSEWOOD BLUSH')" id="649056265624668258464colorrosewood-blush" type="radio">
_arrayEquals(v.options, ['NATURAL NECTAR']))" value="NATURAL NECTAR" name="649056265624668258464-0" :checked="selectedVariant.options.includes('NATURAL NECTAR')" id="649056265624668258464colornatural-nectar" type="radio">
_arrayEquals(v.options, ['PINK PROVOCATEUR']))" value="PINK PROVOCATEUR" name="649056265624668258464-0" :checked="selectedVariant.options.includes('PINK PROVOCATEUR')" id="649056265624668258464colorpink-provocateur" type="radio">