TIPS
Five Iconic Makeup Looks From Our Favorite TV Dramas and Movies
July 5, 2021
by

Alina Bikmullina
by Amanda Etkind
We may scroll through Instagram and Tik Tok to discover the beauty trends of the moment, but there are many popular makeup looks that have made a splash without the help of the internet. Before social media existed (and even now, honestly), we've found so much of our beauty inspo via our favorite on-screen icons that starred in pop culture must-have movies and TV shows. Since the list of beauty inspiration is endless, we decided to select our top five favorite looks to share with all of you. From Alexa Demi's graphic eyeliner in hit TV show Euphoria, to Reese Witherspoon's pretty pink look in Legally Blonde, here are our top five iconic makeup looks—plus the Deck of Scarlet products you need to recreate it on yourself.
Euphoria
If you haven't seen HBO's Euphoria yet, run to your TV or tablet to watch it, stat. The binge-worthy show starring the beautiful Zendaya paints a heartbreakingly honest picture of teenage life in the modern age. But beyond the show itself, the beauty looks were another standout. From glittery eyes and glowy skin to the use of bold color, there are a plethora of looks that could be credited to the show. But the one that's made the biggest impact is Alexa Demie's gorgeous graphic liner. Make it your own with our Dual Drama Liquid Eyeliner ($28), which allows you to create a variety of bold inky noir and colorful looks. Each one comes with a pitch black on one end, and a duochrome shade on the other. 
POSE
POSE's depiction of New York's ballroom scene in the late '80s and early '90s is nothing short of major. The Instagram-worthy drag makeup is as over-the-top as you can imagine with all-pink-everything, sky-high falsies, and obviously tons of shimmer, glitter, and shine. Since the entire show featured all-out makeup looks with loads of color glitter and drama, we suggest giving this trifecta of products a try. Begin with Metal Leaf Shadow Pot in for a metallic shimmering shot of color on your lids and even cheeks depending on the hue you choose, ($28) our Dual Drama Liquid Eyeliner, and our Threeway Solid Lip Oil.
Selena (1997)
Beyond having a powerful voice, rocking a red lip was definitely a requirement to play the inimitable Selena Quintanilla-Pérez. So when Jennifer Lopez starred in her biopic in 1997, it was no surprise that her signature red lip look made a splash yet again. The shade of red itself is a cross between an old Hollywood glamour Ruby and the laid back vibes brickesque tones of the late '80s and early '90s. If you want Selena's signature shade of sanguine, mix our Threeway Solid Lip Oil in shades Scarlet Passion and Bordeaux Baby to create that beautiful deep blue-based red. 
Legally Blonde
The movie Legally Blonde is arguably one of the defining pop culture phenomena of the early aughts, thanks to its empowering storyline and its memorable looks. Actress Reese Witherspoon did not come to play with the sorority-princess-turned-law student 'fits that were every shade of pink imaginable. Her all-pink everything didn't just stop at her wardrobe, it played a big part in her beauty look, too. To achieve Elle's rosy blush-toned look, all you need is our [Mist]ake Proof Blush ($36) in shade Savage (for light to medium skin tones) or Shameless (for medium to deep skin tones) paired with our Double Take Face Brush ($32) for easy blush  application. As for the pink pout, we suggest dabbing Threeway Solid Lip Oil In Rose Goddess ($28) onto your lips for a touch of rosy pink color with a stunning sheen. 
Mean Girls 
The 2004 hit movie Mean Girls is pretty much the reason we wear pink on Wednesdays. While the fashion was certainly iconic as were the endless one liners, the beauty looks also deserve a standing ovation. From Regina George's no-makeup makeup look to Cady Heron's sultry smokey eyes in the plot-twisting party scene, there's so many looks to try from the movie. Our favorite? The globs of high-shine gloss that graced the mouths of all four plastics. While literal gloss is great and all, a shiny nourishing oil-meets-lipstick is even better. If you want to mimic the glossy lips from the movie try our Threeway Solid Lip Oil In Buff Rose ($28) for a cool baby pink or Threeway Solid Lip Oil In Nude Ambition for a warm peachy nude. 
Now's your chance to take these on-screen looks to off screen and onto your face with the help of our Deck of Scarlet lineup. Don't forget to tag us on Instagram @deckofscarlet, so we can see how you recreate these iconic looks yourself.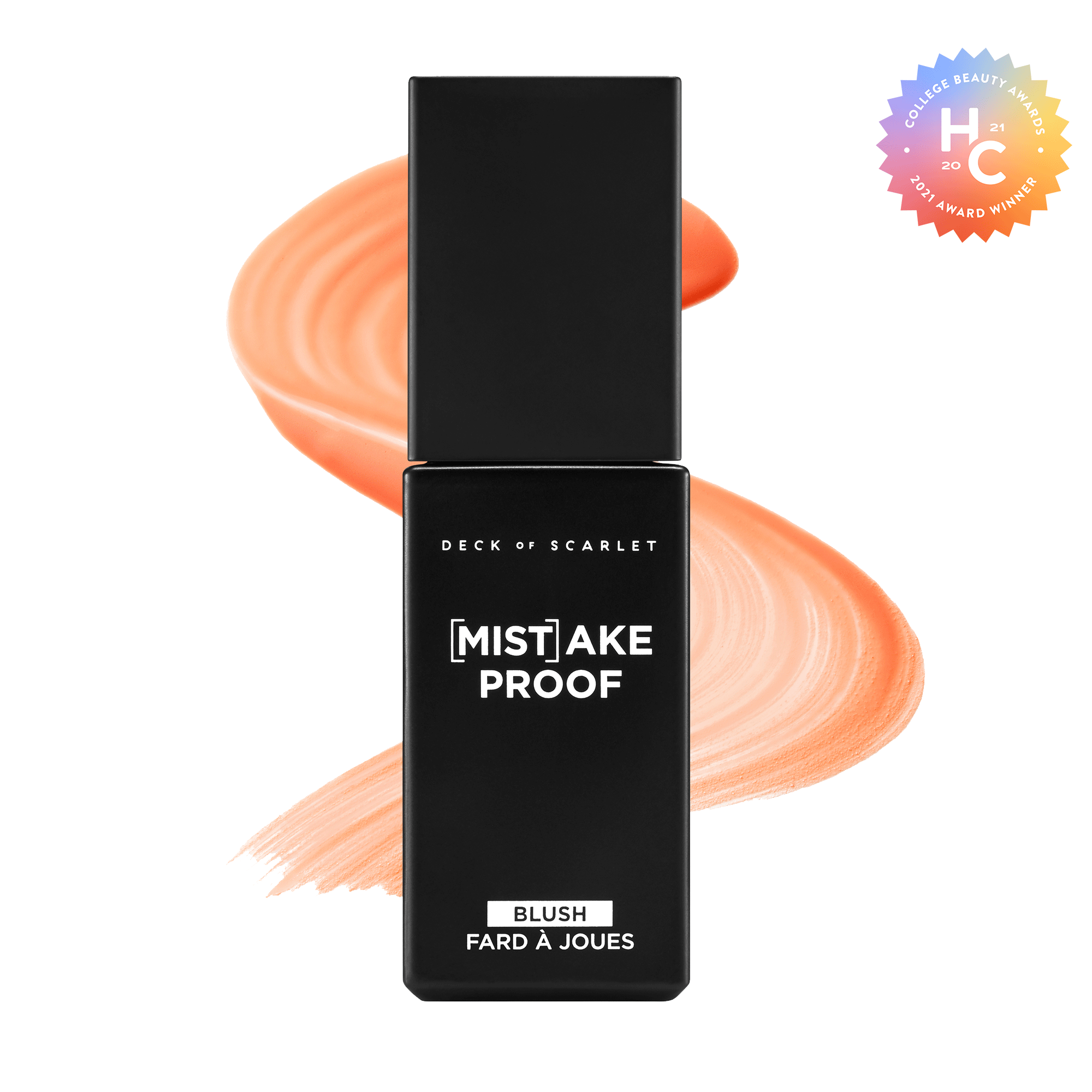 Mistake Proof Blush
in Blush
Threeway Solid Lip Oil
in Lip Oil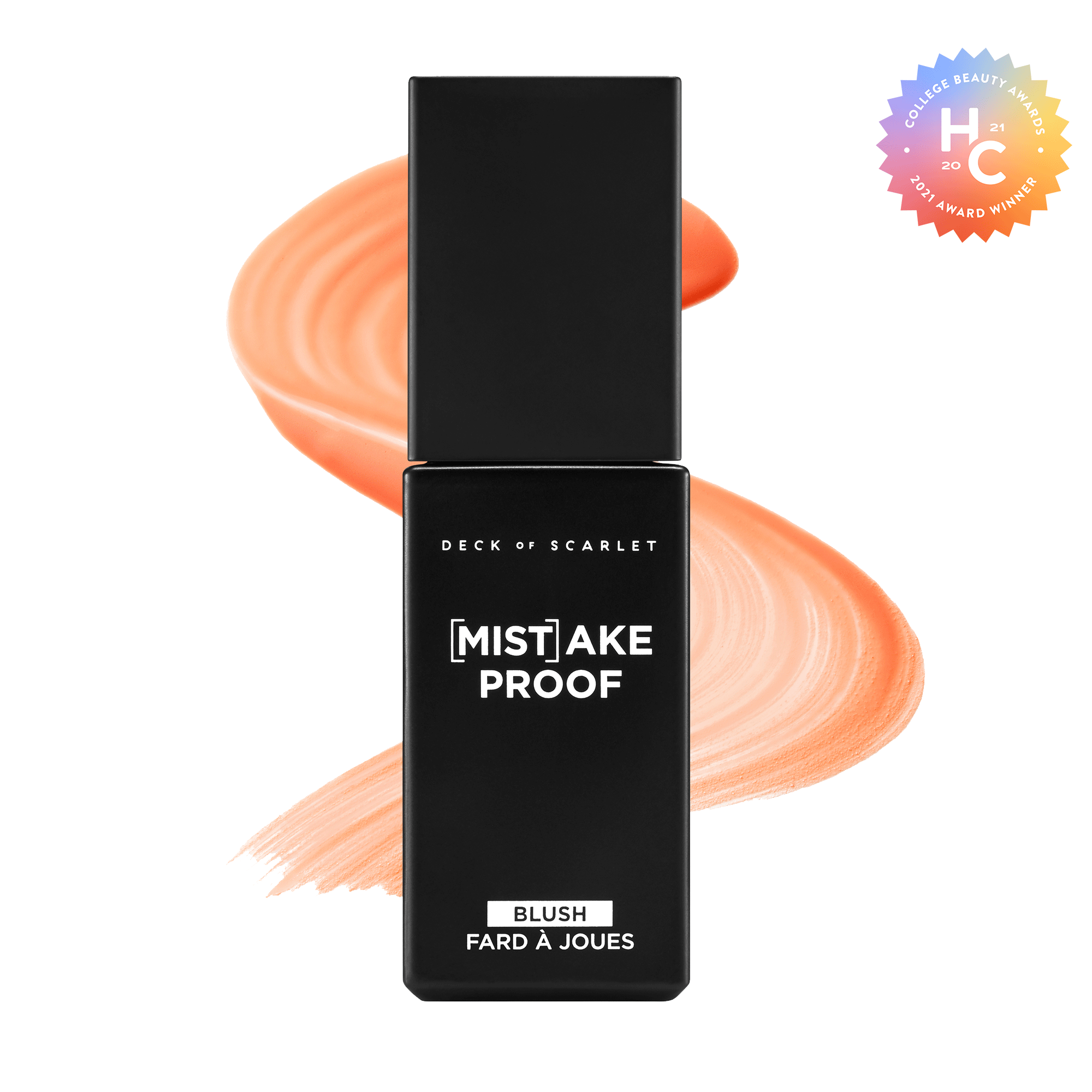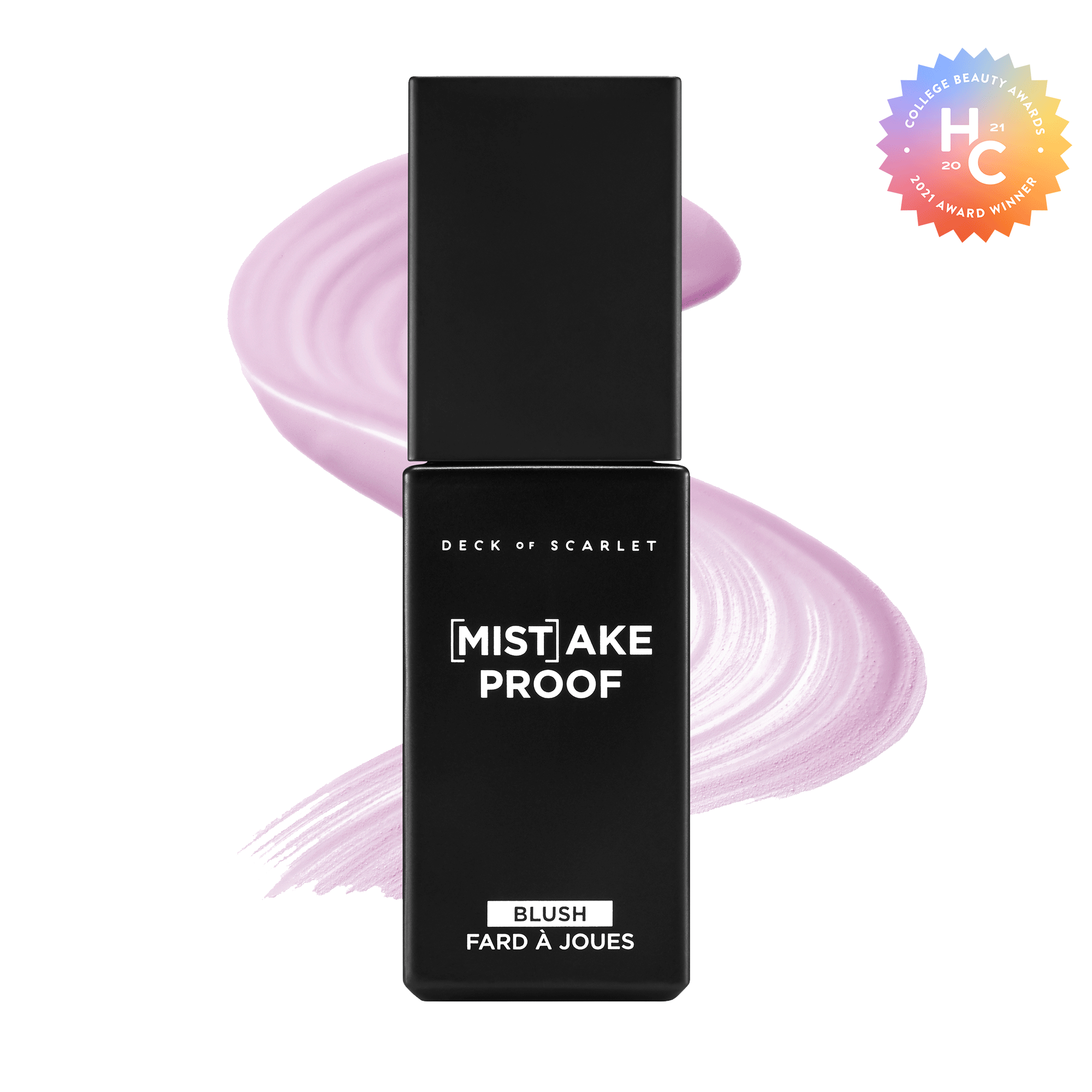 _arrayEquals(v.options, ['SAVAGE']))" value="SAVAGE" name="698842294453895798915-0" :checked="selectedVariant.options.includes('SAVAGE')" id="698842294453895798915colorsavage" type="radio">
_arrayEquals(v.options, ['SHAMELESS']))" value="SHAMELESS" name="698842294453895798915-0" :checked="selectedVariant.options.includes('SHAMELESS')" id="698842294453895798915colorshameless" type="radio">
_arrayEquals(v.options, ['RELENTLESS']))" value="RELENTLESS" name="698842294453895798915-0" :checked="selectedVariant.options.includes('RELENTLESS')" id="698842294453895798915colorrelentless" type="radio">
_arrayEquals(v.options, ['BRAZEN']))" value="BRAZEN" name="698842294453895798915-0" :checked="selectedVariant.options.includes('BRAZEN')" id="698842294453895798915colorbrazen" type="radio">
_arrayEquals(v.options, ['UNRULY']))" value="UNRULY" name="698842294453895798915-0" :checked="selectedVariant.options.includes('UNRULY')" id="698842294453895798915colorunruly" type="radio">
_arrayEquals(v.options, ['DEFIANT']))" value="DEFIANT" name="698842294453895798915-0" :checked="selectedVariant.options.includes('DEFIANT')" id="698842294453895798915colordefiant" type="radio">
_arrayEquals(v.options, ['BUFF ROSE']))" value="BUFF ROSE" name="816156885624668258464-0" :checked="selectedVariant.options.includes('BUFF ROSE')" id="816156885624668258464colorbuff-rose" type="radio">
_arrayEquals(v.options, ['MAUVE MINX']))" value="MAUVE MINX" name="816156885624668258464-0" :checked="selectedVariant.options.includes('MAUVE MINX')" id="816156885624668258464colormauve-minx" type="radio">
_arrayEquals(v.options, ['ROSE GODDESS']))" value="ROSE GODDESS" name="816156885624668258464-0" :checked="selectedVariant.options.includes('ROSE GODDESS')" id="816156885624668258464colorrose-goddess" type="radio">
_arrayEquals(v.options, ['COCOA SPICE']))" value="COCOA SPICE" name="816156885624668258464-0" :checked="selectedVariant.options.includes('COCOA SPICE')" id="816156885624668258464colorcocoa-spice" type="radio">
_arrayEquals(v.options, ['NUDE AMBITION']))" value="NUDE AMBITION" name="816156885624668258464-0" :checked="selectedVariant.options.includes('NUDE AMBITION')" id="816156885624668258464colornude-ambition" type="radio">
_arrayEquals(v.options, ['MERLOT MOVES']))" value="MERLOT MOVES" name="816156885624668258464-0" :checked="selectedVariant.options.includes('MERLOT MOVES')" id="816156885624668258464colormerlot-moves" type="radio">
_arrayEquals(v.options, ['BORDEAUX BABY']))" value="BORDEAUX BABY" name="816156885624668258464-0" :checked="selectedVariant.options.includes('BORDEAUX BABY')" id="816156885624668258464colorbordeaux-baby" type="radio">
_arrayEquals(v.options, ['SCARLET PASSION']))" value="SCARLET PASSION" name="816156885624668258464-0" :checked="selectedVariant.options.includes('SCARLET PASSION')" id="816156885624668258464colorscarlet-passion" type="radio">
_arrayEquals(v.options, ['PURPLE REIGN']))" value="PURPLE REIGN" name="816156885624668258464-0" :checked="selectedVariant.options.includes('PURPLE REIGN')" id="816156885624668258464colorpurple-reign" type="radio">
_arrayEquals(v.options, ['PEACH SANDS']))" value="PEACH SANDS" name="816156885624668258464-0" :checked="selectedVariant.options.includes('PEACH SANDS')" id="816156885624668258464colorpeach-sands" type="radio">
_arrayEquals(v.options, ['FUCHSIA SHOCK']))" value="FUCHSIA SHOCK" name="816156885624668258464-0" :checked="selectedVariant.options.includes('FUCHSIA SHOCK')" id="816156885624668258464colorfuchsia-shock" type="radio">
_arrayEquals(v.options, ['ORANGE RAVE']))" value="ORANGE RAVE" name="816156885624668258464-0" :checked="selectedVariant.options.includes('ORANGE RAVE')" id="816156885624668258464colororange-rave" type="radio">
_arrayEquals(v.options, ['GUAVA SUNRISE']))" value="GUAVA SUNRISE" name="816156885624668258464-0" :checked="selectedVariant.options.includes('GUAVA SUNRISE')" id="816156885624668258464colorguava-sunrise" type="radio">
_arrayEquals(v.options, ['GOLDCROWN']))" value="GOLDCROWN" name="816156885624668258464-0" :checked="selectedVariant.options.includes('GOLDCROWN')" id="816156885624668258464colorgoldcrown" type="radio">
_arrayEquals(v.options, ['ORCHID AFTERGLOW']))" value="ORCHID AFTERGLOW" name="816156885624668258464-0" :checked="selectedVariant.options.includes('ORCHID AFTERGLOW')" id="816156885624668258464colororchid-afterglow" type="radio">
_arrayEquals(v.options, ['ROUGE SUPREME']))" value="ROUGE SUPREME" name="816156885624668258464-0" :checked="selectedVariant.options.includes('ROUGE SUPREME')" id="816156885624668258464colorrouge-supreme" type="radio">
_arrayEquals(v.options, ['CORAL ROSE']))" value="CORAL ROSE" name="816156885624668258464-0" :checked="selectedVariant.options.includes('CORAL ROSE')" id="816156885624668258464colorcoral-rose" type="radio">
_arrayEquals(v.options, ['ESPRESSO RICHE']))" value="ESPRESSO RICHE" name="816156885624668258464-0" :checked="selectedVariant.options.includes('ESPRESSO RICHE')" id="816156885624668258464colorespresso-riche" type="radio">
_arrayEquals(v.options, ['LILAC LOVER']))" value="LILAC LOVER" name="816156885624668258464-0" :checked="selectedVariant.options.includes('LILAC LOVER')" id="816156885624668258464colorlilac-lover" type="radio">
_arrayEquals(v.options, ['MAHOGANY MOOD']))" value="MAHOGANY MOOD" name="816156885624668258464-0" :checked="selectedVariant.options.includes('MAHOGANY MOOD')" id="816156885624668258464colormahogany-mood" type="radio">
_arrayEquals(v.options, ['CREAMSICLE FIZZ']))" value="CREAMSICLE FIZZ" name="816156885624668258464-0" :checked="selectedVariant.options.includes('CREAMSICLE FIZZ')" id="816156885624668258464colorcreamsicle-fizz" type="radio">
_arrayEquals(v.options, ['PINK PETAL']))" value="PINK PETAL" name="816156885624668258464-0" :checked="selectedVariant.options.includes('PINK PETAL')" id="816156885624668258464colorpink-petal" type="radio">
_arrayEquals(v.options, ['ROSEWOOD BLUSH']))" value="ROSEWOOD BLUSH" name="816156885624668258464-0" :checked="selectedVariant.options.includes('ROSEWOOD BLUSH')" id="816156885624668258464colorrosewood-blush" type="radio">
_arrayEquals(v.options, ['NATURAL NECTAR']))" value="NATURAL NECTAR" name="816156885624668258464-0" :checked="selectedVariant.options.includes('NATURAL NECTAR')" id="816156885624668258464colornatural-nectar" type="radio">
_arrayEquals(v.options, ['PINK PROVOCATEUR']))" value="PINK PROVOCATEUR" name="816156885624668258464-0" :checked="selectedVariant.options.includes('PINK PROVOCATEUR')" id="816156885624668258464colorpink-provocateur" type="radio">