PRODUCT
Get Glowing With Our NEW Mirror Glaze Highlighting Trio
October 5, 2021
by

Alina Bikmullina
by Amanda Etkind
Highlighter is a staple in our makeup collections. With all the powder, cream, and liquid formulas out there in the beautysphere, there are a plethora of options when it comes to the glow-boosting stuff. But not all of these highlighters actually deliver on their promises. Some claim a dewy glow but end up being sticky and shineless, while others tout a smooth glimmering finish but just leave behind sparkle particles. Lucky for you, we came out with a NEW highlighting formula that comes in a variety of shades and textures that's unlike any highlighter you've tried before. Our NEW Mirror Glaze Highlighting Trio gives you both a glossy glow and a lit-from-within look with clean, vegan, and cruelty-free formulas. Ready to catch that good light? Read on to get all the deets about our latest launch that will give you luminosity spanning naturally radiant to a see-it-from-the-stratosphere glow.
So, What Is it?
We like options when it comes to our glow. So, we designed this highlighter trio to be worn layered, or on its own. It features a duo of ultra-soft powder highlighters and a gel-cream formula that allow you to customize your glow. Both impressive formulas are made with micro-fine pearls to deliver a glassy, mirror-esque finish (hence the name) that blends into the skin. The two formulas play well together, so you don't have to worry about any weird creasing, caking, or uneven texture like you do with some highlighters. 
Why is it different?

Unlike traditional glow-givers, ours is filled with good-for-skin ingredients. Inside, you'll discover bakuchiol which is a natural, gentle alternative to retinol that plumps skin, boosts both collagen production and elasticity, and reduces fine lines for a more even finish. You'll also find Silver Ear Mushroom, a powerful hydrator rich in Vitamin D that draws in water and locks it into skin, fights free radical damage, reduces dark spots, and promotes skin regeneration for a clearer, smoother complexion.
How do I apply it?
Since there's no one way to glow, we created this formula with personalization in mind. This glow-giving formula can be worn however you choose. For a subtle, glossy finish, pat a pea-sized amount of the gel-cream formula to the high points of your face using either your fingers, or the crescent moon side of the Glow Big or Glow Home Highlighting Brush. For a lit-from-within effect, apply the powder highlighter using the fanned side of the Glow Big or Glow Home Highlighting Brush, and sweep over the high points of your face. For a major, see-it-from-the-stratosphere glow, smooth on the gelee, then follow with the powder highlighter for maximum impact. 
Which shades are right for me?
We're big fans of pairing different shades depending on our overall look, but if you need a bit of guidance, we've got you. If you're interested in a more natural-looking pink or peachy glow, we suggest Rosé All Day or Peachy Keen. Love to achieve a golden hour glimmer? Dress your cheeks in Gold Standard and Bronze & Boujee for a warm gold or bronze situation. And if you're a fan of more iridescent or out-of-the-box hues try Purple Haze for a lilac lustre that looks utterly gorgeous on your cheeks.
If you're in the market for a new highlighter in your life (yes, pun intended), consider this your sign to add to cart. We hope you'll give our latest luminizing launch a glow. If you do, don't forget to share your luminous look with us @deckofscarlet on Instagram.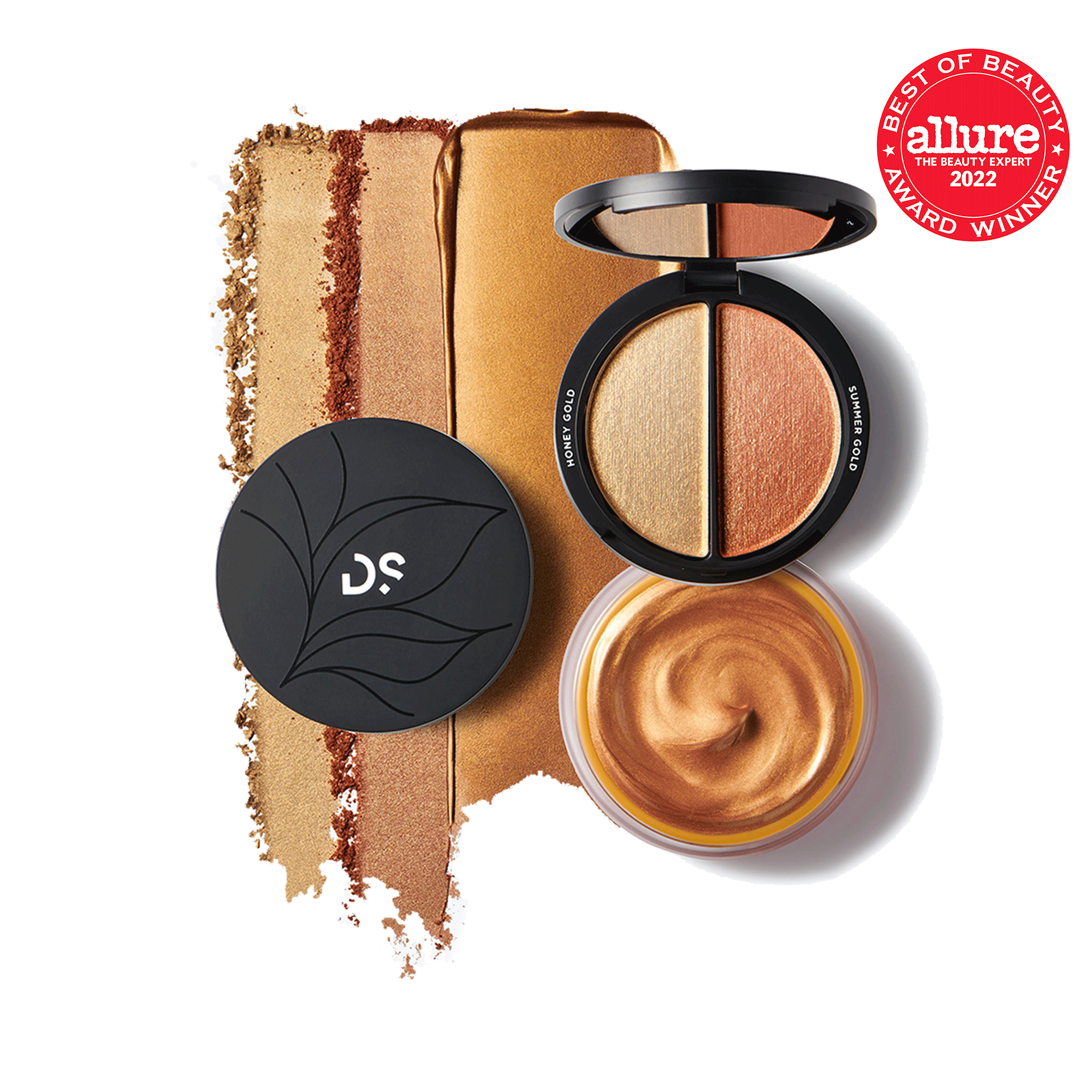 Mirror Glaze Highlighting Trio
in Trio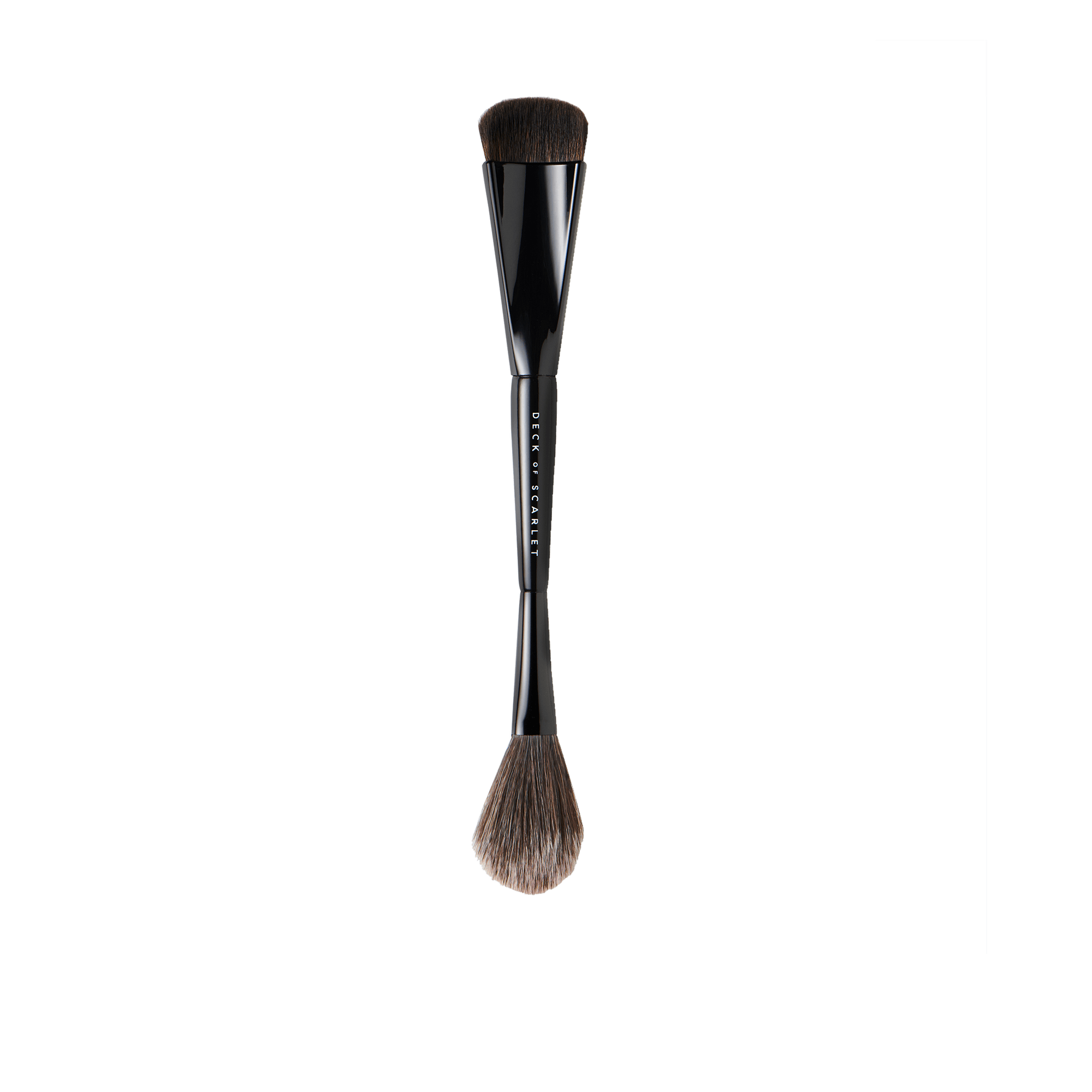 Glow Big Or Glow Home Highlighting Brush
in Brush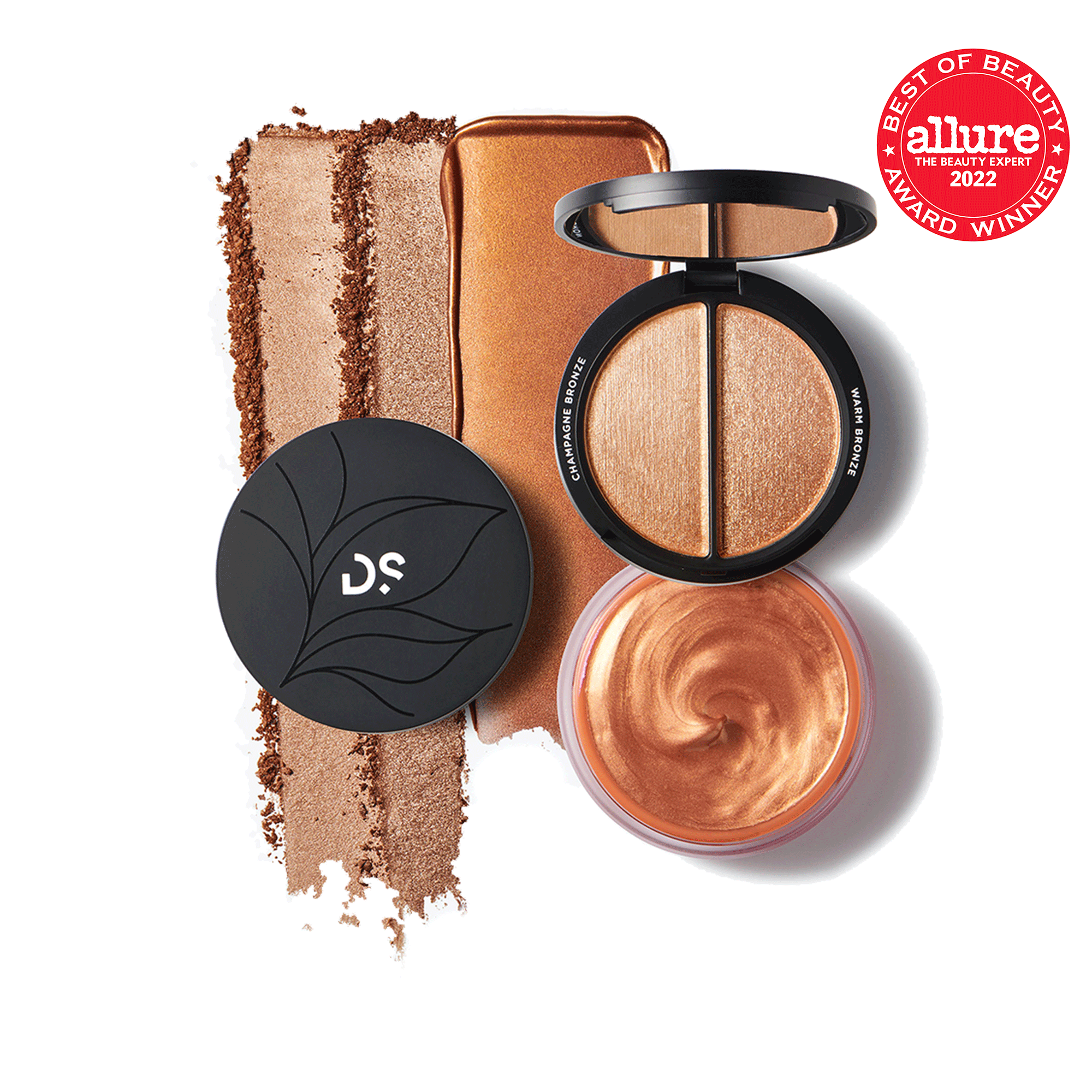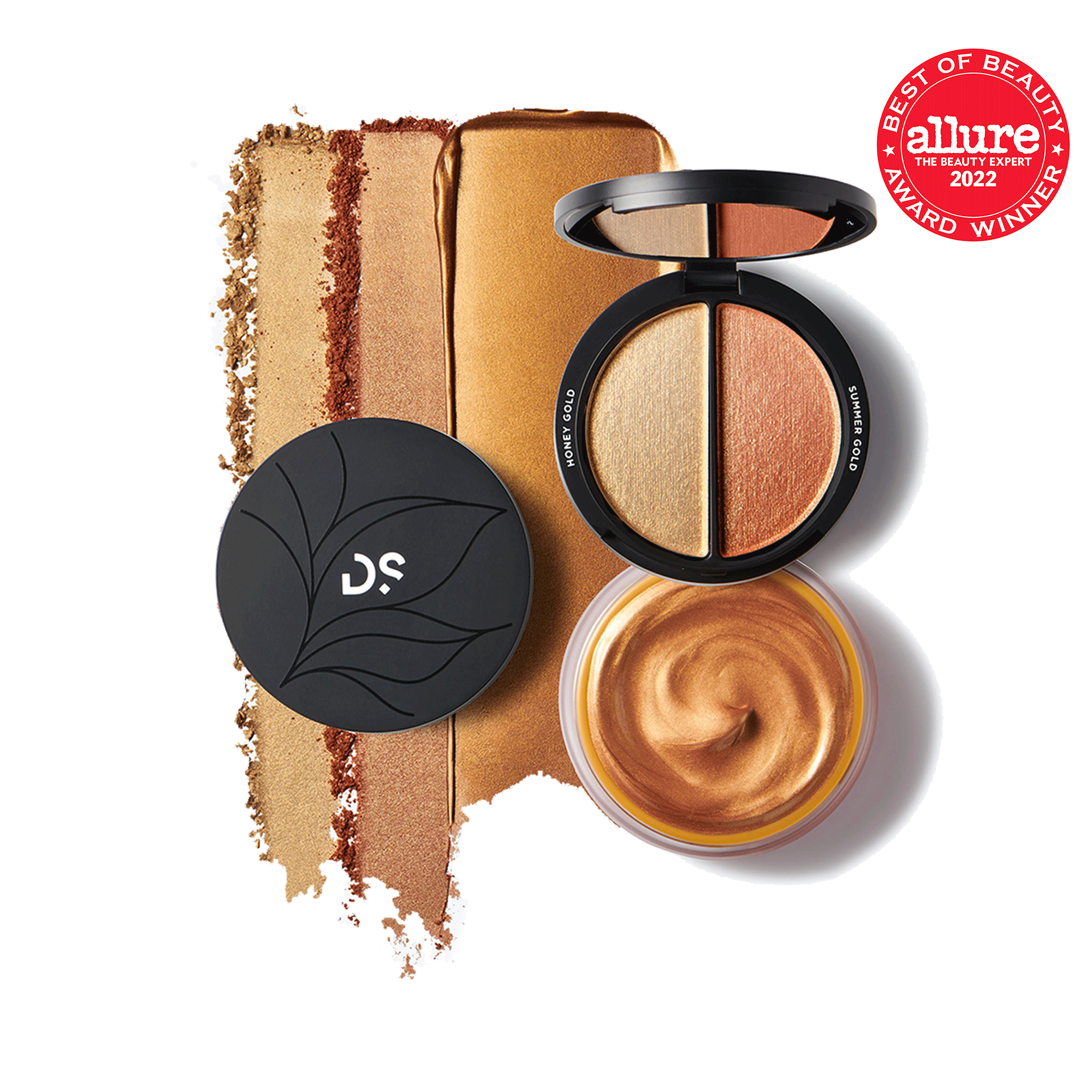 _arrayEquals(v.options, ['GOLD STANDARD']))" value="GOLD STANDARD" name="140158286996039368864-0" :checked="selectedVariant.options.includes('GOLD STANDARD')" id="140158286996039368864colorgold-standard" type="radio">
_arrayEquals(v.options, ['ROSE ALL DAY']))" value="ROSE ALL DAY" name="140158286996039368864-0" :checked="selectedVariant.options.includes('ROSE ALL DAY')" id="140158286996039368864colorrose-all-day" type="radio">
_arrayEquals(v.options, ['PEACHY KEEN']))" value="PEACHY KEEN" name="140158286996039368864-0" :checked="selectedVariant.options.includes('PEACHY KEEN')" id="140158286996039368864colorpeachy-keen" type="radio">
_arrayEquals(v.options, ['BRONZE AND BOUJEE']))" value="BRONZE AND BOUJEE" name="140158286996039368864-0" :checked="selectedVariant.options.includes('BRONZE AND BOUJEE')" id="140158286996039368864colorbronze-and-boujee" type="radio">
_arrayEquals(v.options, ['PURPLE HAZE']))" value="PURPLE HAZE" name="140158286996039368864-0" :checked="selectedVariant.options.includes('PURPLE HAZE')" id="140158286996039368864colorpurple-haze" type="radio">