Scarlet Squad
Scarlet Squad Spotlight: Tani Garcha
January 11, 2021
by

Alina Bikmullina
6 Things You Need to Know About Tani Garcha
Welcome to the Scarlet Squad — a group of likeminded beauty aficionados with attitudes as bold as their signature makeup looks, and you're already on the list. Here, we believe in the power of creative expression through makeup, and living life out loud with a bright lipstick in hand. We'll be shining a spotlight on members of our dedicated group of makeup mavens, with the stunning Tani Garcha (@tani_garcha) kicking off the series. 
Here, Tani tells us all about her signature look, rules for living boldly, and her go-to products. 
Tell us about yourself using 3 emojis.
🤓 Work hard,
😇 be kind,
🤪 act silly and have fun! 
What's your sign?
Cancer ♋️ 
Where do you live? 
I'm based in Northern California. Sacramento!
What's some BOLD advice you have for women (and our femme fam)? How can they live their life boldly like you?
I think women can live more boldly by learning how to love themselves the way they are. We all have something special within us but we fail to see it because we are so focused on outside opinions and believing in what society tells us is "beautiful." It's important to realize you are your own blessing, take a deep breath and tell yourself you are brave & fearless and can overcome anything. It's about accepting who you are and learning from love & expressing yourself in the way you want.
For me, I express myself through my art with no rules attached. I do what feels good to me and I think that makes me really live boldly. I think it begins from accepting yourself and embracing what makes you, YOU!
What is your go-to Deck of Scarlet look? 
I love a natural glam, but love going out of my comfort zone with a bold daring lip. I use the [MIST]AKE PROOF Bronzer in Carnal, followed by the Blush in Relentless. I finish off my look with the Threeway Solid Lip Oil in Scarlet Passion.
What is your go-to Threeway Solid Lip Oil Shade? 
Aside from the Threeway Solid Lip Oil in Scarlet Passion, I also love the Nude Ambition hue.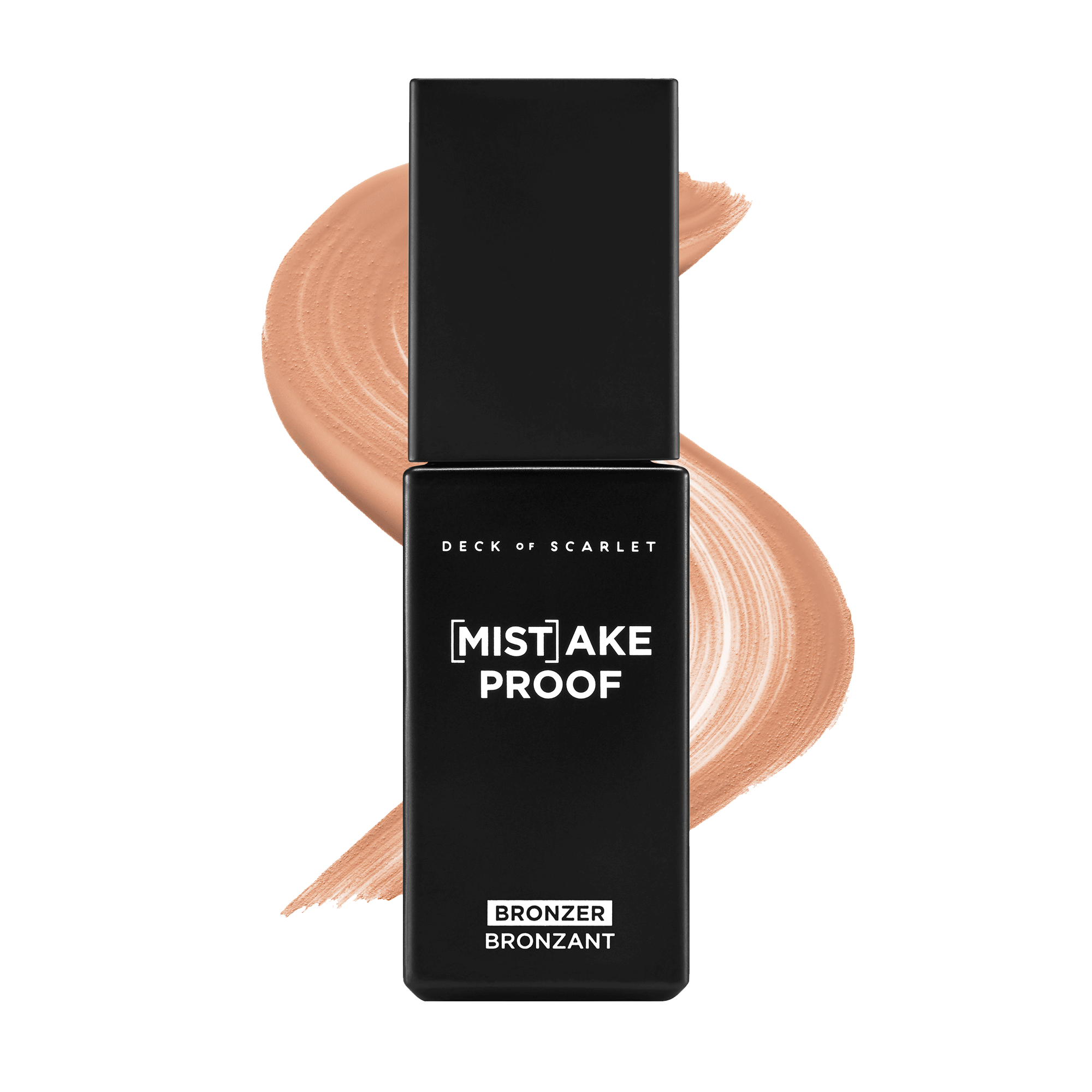 Mistake Proof Bronzer
in Bronzer
Threeway Solid Lip Oil
in Lip Oil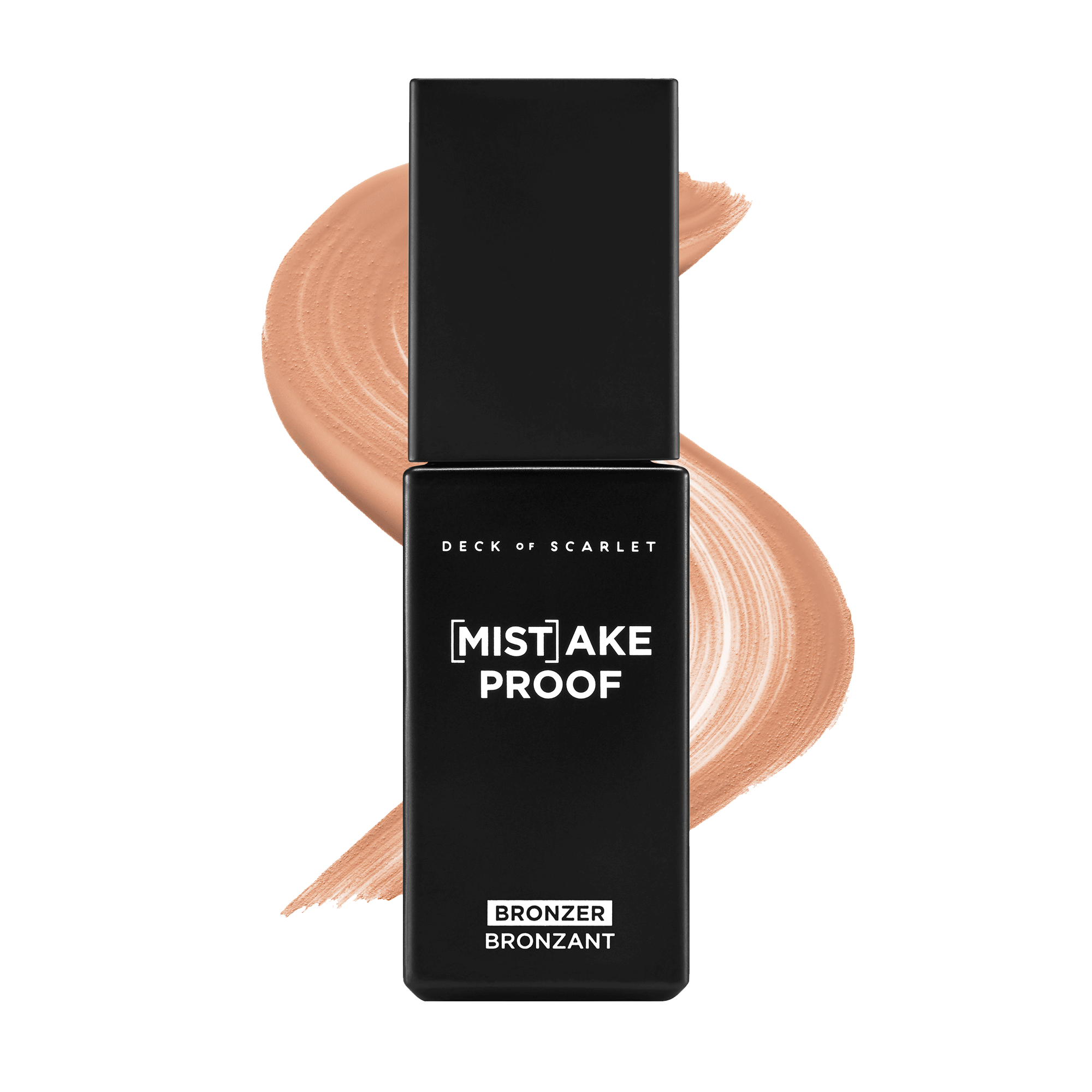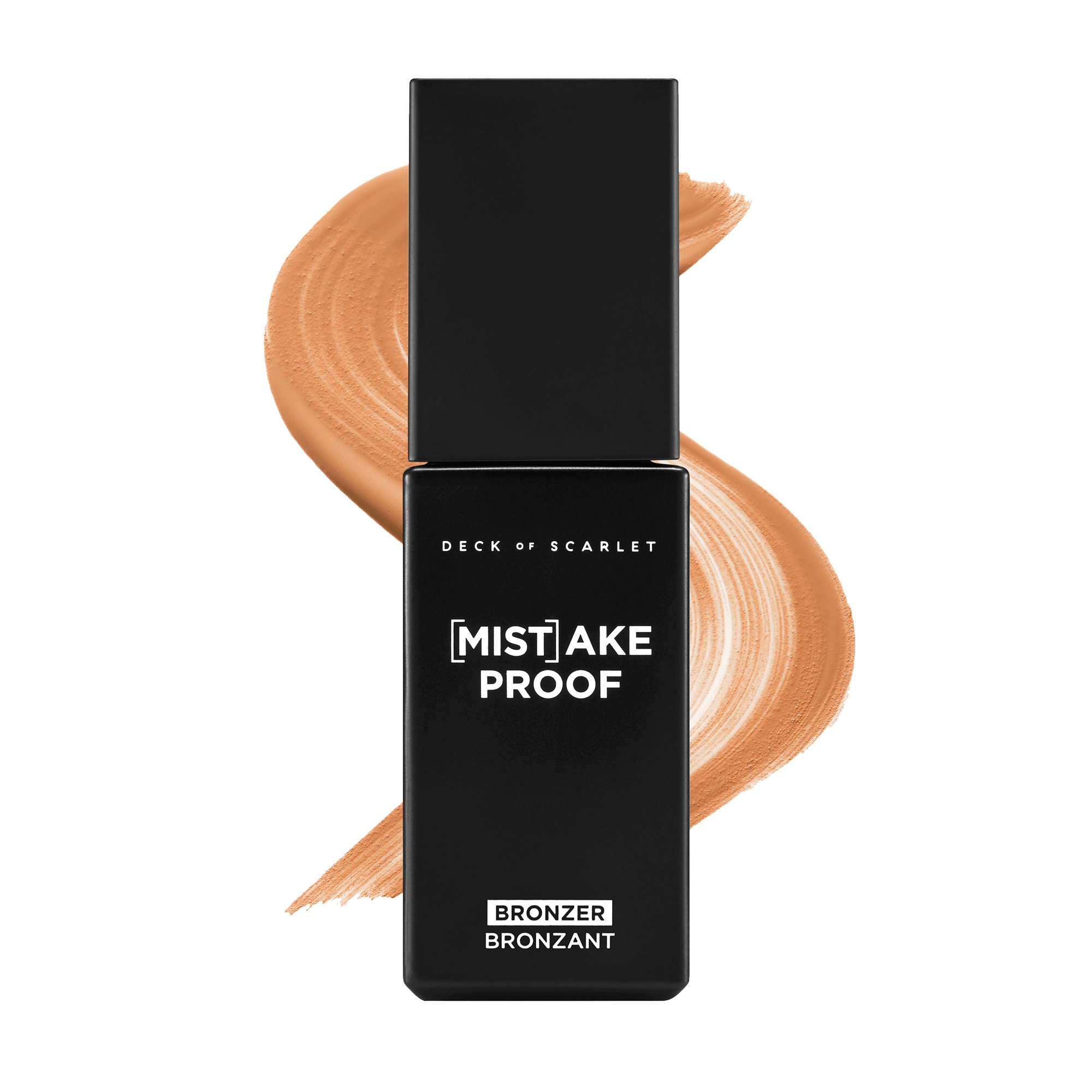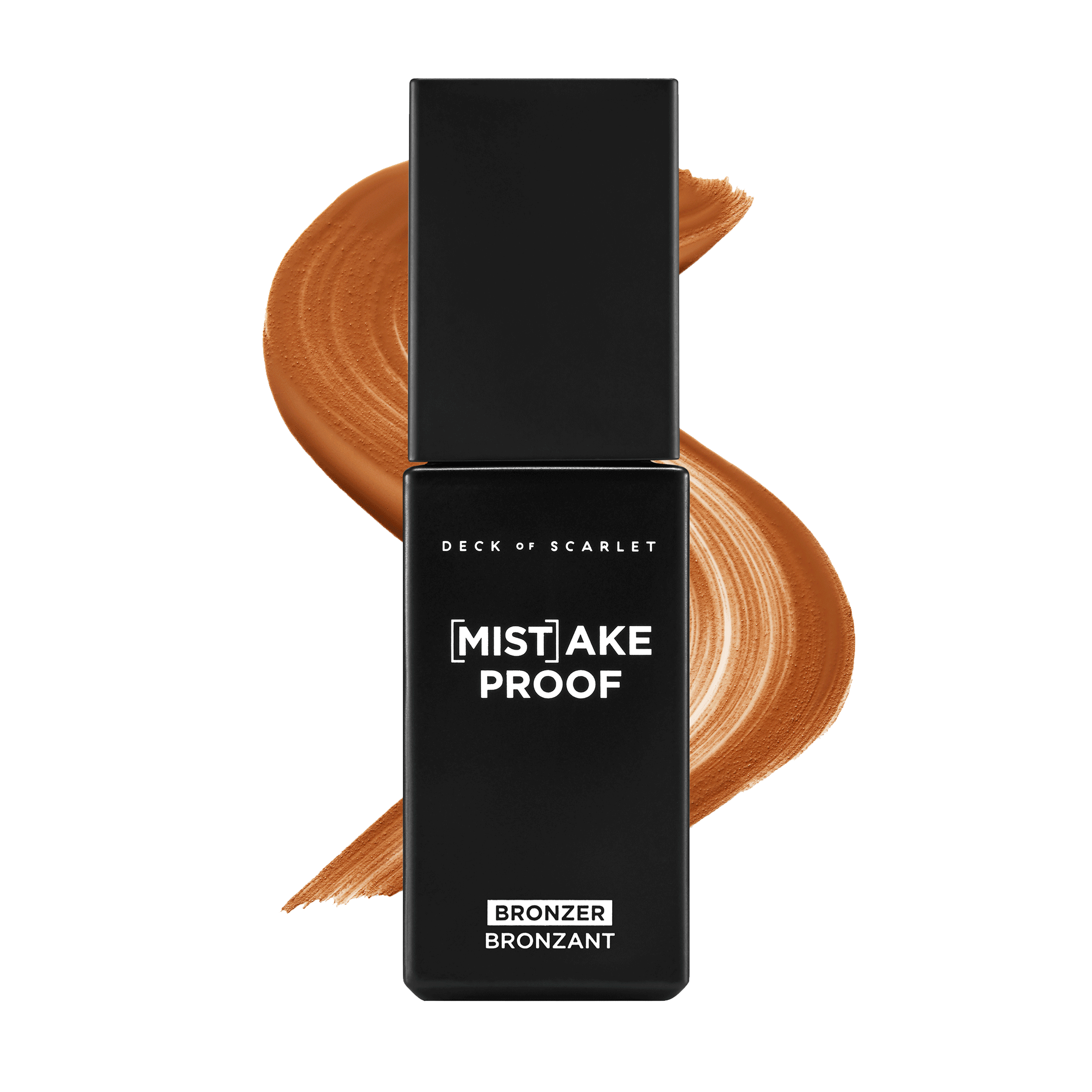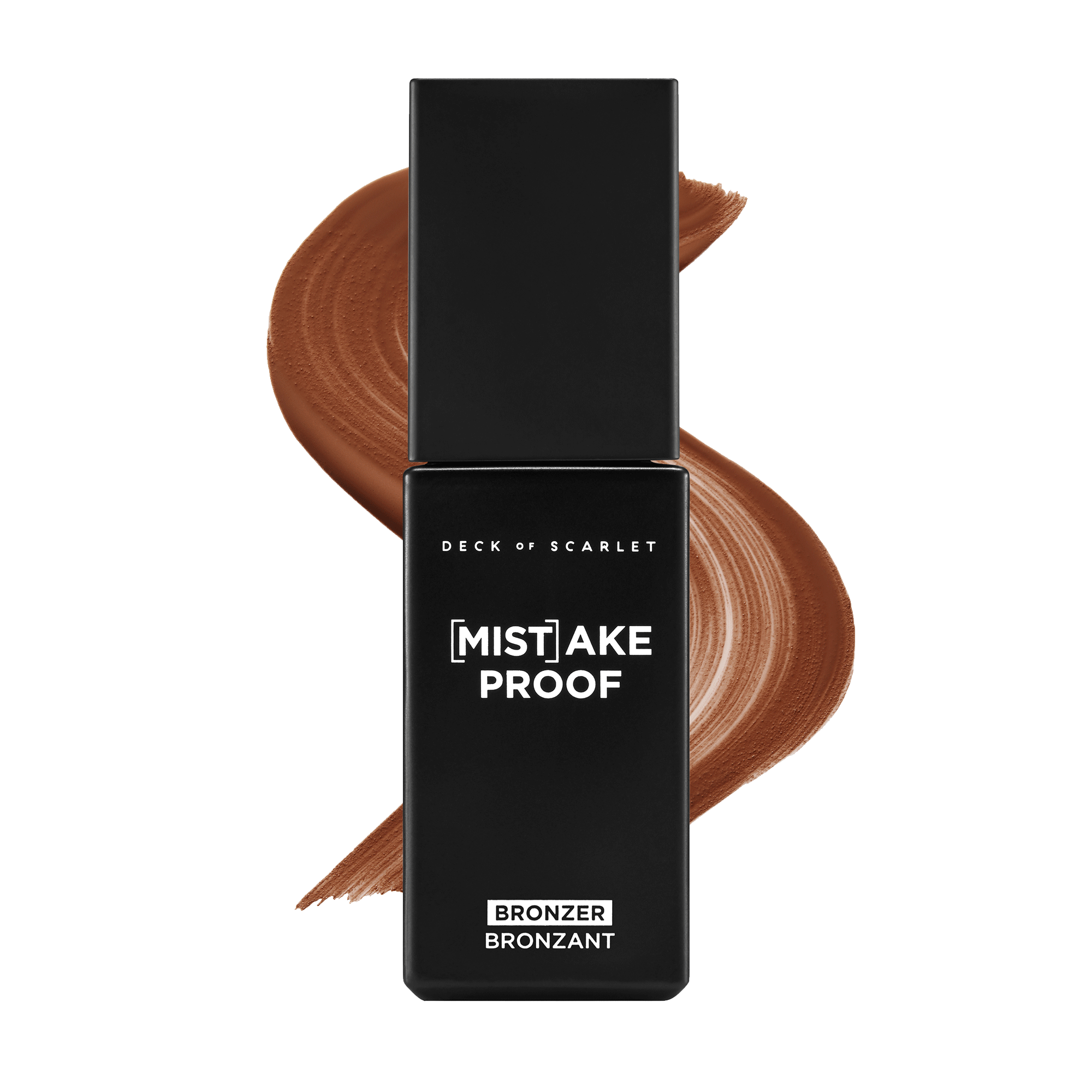 _arrayEquals(v.options, ['TANTRIC']))" value="TANTRIC" name="712334174453898125443-0" :checked="selectedVariant.options.includes('TANTRIC')" id="712334174453898125443colortantric" type="radio">
_arrayEquals(v.options, ['ILLICIT']))" value="ILLICIT" name="712334174453898125443-0" :checked="selectedVariant.options.includes('ILLICIT')" id="712334174453898125443colorillicit" type="radio">
_arrayEquals(v.options, ['CARNAL']))" value="CARNAL" name="712334174453898125443-0" :checked="selectedVariant.options.includes('CARNAL')" id="712334174453898125443colorcarnal" type="radio">
_arrayEquals(v.options, ['UNTAMED']))" value="UNTAMED" name="712334174453898125443-0" :checked="selectedVariant.options.includes('UNTAMED')" id="712334174453898125443coloruntamed" type="radio">
_arrayEquals(v.options, ['BUFF ROSE']))" value="BUFF ROSE" name="809610995624668258464-0" :checked="selectedVariant.options.includes('BUFF ROSE')" id="809610995624668258464colorbuff-rose" type="radio">
_arrayEquals(v.options, ['MAUVE MINX']))" value="MAUVE MINX" name="809610995624668258464-0" :checked="selectedVariant.options.includes('MAUVE MINX')" id="809610995624668258464colormauve-minx" type="radio">
_arrayEquals(v.options, ['ROSE GODDESS']))" value="ROSE GODDESS" name="809610995624668258464-0" :checked="selectedVariant.options.includes('ROSE GODDESS')" id="809610995624668258464colorrose-goddess" type="radio">
_arrayEquals(v.options, ['COCOA SPICE']))" value="COCOA SPICE" name="809610995624668258464-0" :checked="selectedVariant.options.includes('COCOA SPICE')" id="809610995624668258464colorcocoa-spice" type="radio">
_arrayEquals(v.options, ['NUDE AMBITION']))" value="NUDE AMBITION" name="809610995624668258464-0" :checked="selectedVariant.options.includes('NUDE AMBITION')" id="809610995624668258464colornude-ambition" type="radio">
_arrayEquals(v.options, ['MERLOT MOVES']))" value="MERLOT MOVES" name="809610995624668258464-0" :checked="selectedVariant.options.includes('MERLOT MOVES')" id="809610995624668258464colormerlot-moves" type="radio">
_arrayEquals(v.options, ['BORDEAUX BABY']))" value="BORDEAUX BABY" name="809610995624668258464-0" :checked="selectedVariant.options.includes('BORDEAUX BABY')" id="809610995624668258464colorbordeaux-baby" type="radio">
_arrayEquals(v.options, ['SCARLET PASSION']))" value="SCARLET PASSION" name="809610995624668258464-0" :checked="selectedVariant.options.includes('SCARLET PASSION')" id="809610995624668258464colorscarlet-passion" type="radio">
_arrayEquals(v.options, ['PURPLE REIGN']))" value="PURPLE REIGN" name="809610995624668258464-0" :checked="selectedVariant.options.includes('PURPLE REIGN')" id="809610995624668258464colorpurple-reign" type="radio">
_arrayEquals(v.options, ['PEACH SANDS']))" value="PEACH SANDS" name="809610995624668258464-0" :checked="selectedVariant.options.includes('PEACH SANDS')" id="809610995624668258464colorpeach-sands" type="radio">
_arrayEquals(v.options, ['FUCHSIA SHOCK']))" value="FUCHSIA SHOCK" name="809610995624668258464-0" :checked="selectedVariant.options.includes('FUCHSIA SHOCK')" id="809610995624668258464colorfuchsia-shock" type="radio">
_arrayEquals(v.options, ['ORANGE RAVE']))" value="ORANGE RAVE" name="809610995624668258464-0" :checked="selectedVariant.options.includes('ORANGE RAVE')" id="809610995624668258464colororange-rave" type="radio">
_arrayEquals(v.options, ['GUAVA SUNRISE']))" value="GUAVA SUNRISE" name="809610995624668258464-0" :checked="selectedVariant.options.includes('GUAVA SUNRISE')" id="809610995624668258464colorguava-sunrise" type="radio">
_arrayEquals(v.options, ['GOLDCROWN']))" value="GOLDCROWN" name="809610995624668258464-0" :checked="selectedVariant.options.includes('GOLDCROWN')" id="809610995624668258464colorgoldcrown" type="radio">
_arrayEquals(v.options, ['ORCHID AFTERGLOW']))" value="ORCHID AFTERGLOW" name="809610995624668258464-0" :checked="selectedVariant.options.includes('ORCHID AFTERGLOW')" id="809610995624668258464colororchid-afterglow" type="radio">
_arrayEquals(v.options, ['ROUGE SUPREME']))" value="ROUGE SUPREME" name="809610995624668258464-0" :checked="selectedVariant.options.includes('ROUGE SUPREME')" id="809610995624668258464colorrouge-supreme" type="radio">
_arrayEquals(v.options, ['CORAL ROSE']))" value="CORAL ROSE" name="809610995624668258464-0" :checked="selectedVariant.options.includes('CORAL ROSE')" id="809610995624668258464colorcoral-rose" type="radio">
_arrayEquals(v.options, ['ESPRESSO RICHE']))" value="ESPRESSO RICHE" name="809610995624668258464-0" :checked="selectedVariant.options.includes('ESPRESSO RICHE')" id="809610995624668258464colorespresso-riche" type="radio">
_arrayEquals(v.options, ['LILAC LOVER']))" value="LILAC LOVER" name="809610995624668258464-0" :checked="selectedVariant.options.includes('LILAC LOVER')" id="809610995624668258464colorlilac-lover" type="radio">
_arrayEquals(v.options, ['MAHOGANY MOOD']))" value="MAHOGANY MOOD" name="809610995624668258464-0" :checked="selectedVariant.options.includes('MAHOGANY MOOD')" id="809610995624668258464colormahogany-mood" type="radio">
_arrayEquals(v.options, ['CREAMSICLE FIZZ']))" value="CREAMSICLE FIZZ" name="809610995624668258464-0" :checked="selectedVariant.options.includes('CREAMSICLE FIZZ')" id="809610995624668258464colorcreamsicle-fizz" type="radio">
_arrayEquals(v.options, ['PINK PETAL']))" value="PINK PETAL" name="809610995624668258464-0" :checked="selectedVariant.options.includes('PINK PETAL')" id="809610995624668258464colorpink-petal" type="radio">
_arrayEquals(v.options, ['ROSEWOOD BLUSH']))" value="ROSEWOOD BLUSH" name="809610995624668258464-0" :checked="selectedVariant.options.includes('ROSEWOOD BLUSH')" id="809610995624668258464colorrosewood-blush" type="radio">
_arrayEquals(v.options, ['NATURAL NECTAR']))" value="NATURAL NECTAR" name="809610995624668258464-0" :checked="selectedVariant.options.includes('NATURAL NECTAR')" id="809610995624668258464colornatural-nectar" type="radio">
_arrayEquals(v.options, ['PINK PROVOCATEUR']))" value="PINK PROVOCATEUR" name="809610995624668258464-0" :checked="selectedVariant.options.includes('PINK PROVOCATEUR')" id="809610995624668258464colorpink-provocateur" type="radio">